| | |
| --- | --- |
| National Parks Portfolio | |

Grand Teton
---


THE MAGNIFICENT PANORAMA OF THE TETON MOUNTAINS VIEWED FROM ACROSS JACKSON LAKE
Photograph by J.E. Haynes, St. Paul
GRAND TETON
NATIONAL PARK
WITH its incomparable granite peaks and its historic and romantic past, the Grand Teton National Park is an area of absorbing interest. In it is the most impressive portion of the always impressive Teton Mountain Range. Its central feature, the Grand Teton Mountain group, is the scenic climax of the park and one of the noblest mountain masses in the world. Perhaps it can best be described as cathedral-like. On approaching it from the north, the visitor beholds a vast cathedral, built of granite and shaped by glaciers, of which the remnants are still at work. From the cast and south it strikingly resembles the Matterhorn of the Alps.
To the east, and bordered by the Teton Mountain Range, lies the Jackson Hole, once famous as the rendezvous of the outlaw and the hunted. Now, dotted with peaceful cattle and dude ranches it is still surrounded by an aura of romance, its inheritance from the past.
From the Jackson Hole the Tetons spring abruptly to a height of from nine to fourteen thousand feet. Here they present one of the most precipitous mountain fronts on the continent, if not in the world. The grandeur of the beetling gray crags, sheer precipices, and perennial snowfields is vastly enhanced by the total absence of foothills, and by contrast with the relatively flat floor of Jackson Hole.
Another delightful contrast to the rugged mountains is formed by the lovely, forest-encircled lakes that nestle at their feet and reflect their towering summits. The visitor should climb a few hundred feet up the mountainside near Jenny Lake, and look down upon this superb array of lakes. From this vantage point one sees that each lake lies outside the mouth of a canyon, and occupies a crescent-shaped glacial moraine.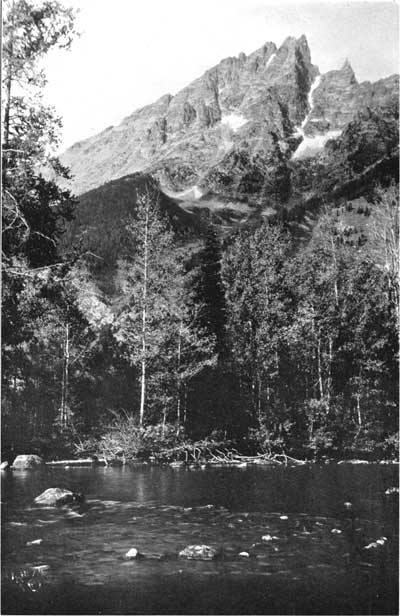 FOREST-ENCIRCLED JENNY LAKE
Continued >>>