---
MENU
---

Hawaii
---
| | |
| --- | --- |
| National Parks Portfolio | |

Hawaii
---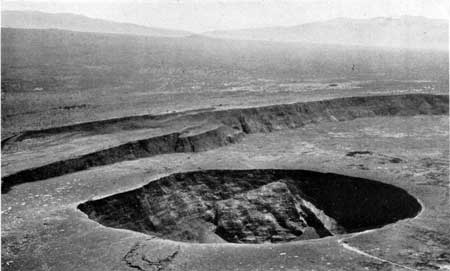 THE FIRE-PIT HALEMAUMAU WITHIN KILAUEA CRATER
Photograph by U.S. Army Air Corps
HAWAII NATIONAL PARK
THE Hawaii National Park, created in 1916, includes three celebrated Hawaiian volcanoes, Kilauea, Mauna Loa, and Haleakala. "The Hawaiian Volcanoes," writes T. A. Jaggar, director of the Hawaiian Volcano Observatory, "are truly a national asset, wholly unique of their kind, the most famous in the world of science and the most continuously, variously, and harmlessly active volcanoes on earth. Kilauea crater has been nearly continuously active, with a lake or lakes of molten lava, for a century. Manna Loa is the largest active volcano and mountain mass in the world, with eruptions about once a decade, and has poured out more lava during the last century than any other volcano on the globe. Haleakala is a mountain mass ten thousand feet high, with a tremendous crater rift in its summit eight miles in diameter and three thousand feet deep, containing many high lava cones.
"Haleakala is probably the largest of all known craters among volcanoes that are technically known as active. It erupted less than two hundred years ago. The crater at sunrise is the grandest volcano spectacle on earth."
The lava lake at Kilauea when active is the most spectacular feature of the national park. It draws visitors from all over the world. It is a lake of molten, fiery lava a thousand feet long, splashing on its banks with a noise like waves of the sea, while great fountains boil through it fifty feet high.
The park also includes gorgeous tropical jungles and fine forests. Sandalwood, elsewhere extinct, grows luxuriantly. There are mahogany groves.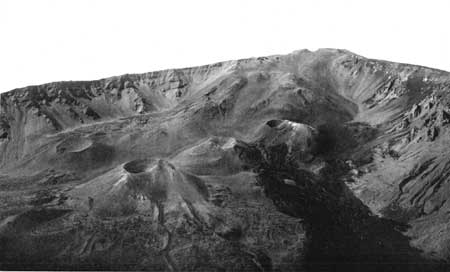 ONE CORNER OF THE ENORMOUS CRATER OF HALEAKALA
Photograph by Eleventh Photo Section, U.S. Army Air Corps
Continued >>>