| | |
| --- | --- |
| National Parks Portfolio | |

National Monuments
---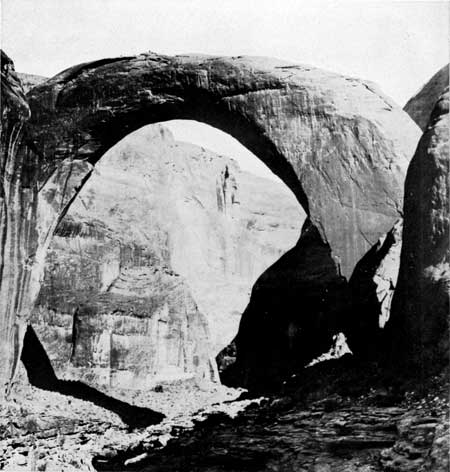 RAINBOW BRIDGE NATIONAL MONUMENT
THIS natural bridge is located within the Navajo Indian Reservation, near the southern boundary of Utah, and spans a canyon and small stream which drains the northwestern slopes of Navajo Mountain. It is of great scientific interest as an example of eccentric stream erosion.
Among the known extraordinary natural bridges of the world, this bridge is unique in that it is not only a symmetrical arch below but presents also a curved surface above, thus suggesting roughly a rainbow. Its height above the surface of the water is three hundred and nine feet and its span is two hundred and seventy-eight feet.
The bridge and the neighboring canyon walls are gorgeously clothed in mottled red and yellow. It was first seen by white men in August, 1909, when Professor Byron Cummings, John Wetherill, and William B. Douglass visited it under the guidance of an Indian boy.
THE CASA GRANDE NATIONAL MONUMENT
ONE of the best preserved and most interesting ruins in the Southwest has been preserved in this reservation, which is near Florence, Arizona. The structure was once at least four stories high. Many mounds in the neighborhood indicate that it was one of a large group of dwellings of some importance. The ruin was discovered by the intrepid Jesuit missionary, Father Eusebio Francisco Kino, at the end of the seventeenth century.
EL MORRO NATIONAL MONUMENT
EL MORRO, or Inscription Rock, in western central New Mexico, is an enormous sandstone rock rising a couple of hundred feet out of the plain and eroded in such fantastic form as to give it the appearance of a castle.
The earliest inscription is dated February i8, 1526. Historically the most important inscription is that of Juan de Onate a colonizer of New Mexico and the founder of the city of Santa Fe, in 1606. It was in this year that Onate visited El Morro and carved this inscription on his return from a trip to the head of the Gulf of California. There are nineteen other Spanish inscriptions.
CAPULIN MOUNTAIN NATIONAL MONUMENT
CAPULIN MOUNTAIN is a volcanic cinder cone of recent origin, six miles southwest of Folsom, New Mexico. It is the most magnificent specimen of a considerable group of craters. Capulin has an altitude of eight thousand feet, rising 1,500 feet above the surrounding plain. It is almost a perfect cone.
VERENDRYE NATIONAL MONUMENT
FROM the left bank of the Missouri River, at Old Crossing, North Dakota, rises an impressive eminence from which the great plains west of the Rockies doubtless were first seen by civilized man. Crowhigh Butte is the second highest elevation in the State. It is conserved by presidential proclamation under the title of Verendrye National Monument.
Verendrye, the celebrated French explorer, started from the north shore of Lake Superior sixty years before the Lewis and Clark expedition, passed westward and southwestward into the unknown regions of the plains and the mountains, and, about 1740, stood upon the summit of this striking butte.
Continued >>>