| | |
| --- | --- |
| National Parks Portfolio | |

Lassen Volcanic
---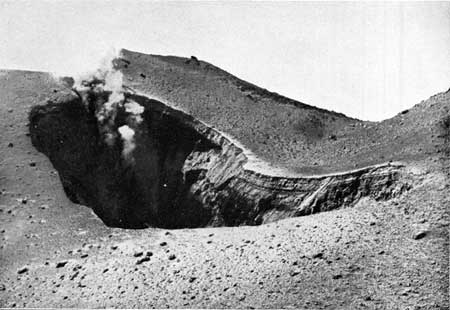 CRATER OF LASSEN PEAK AFTER ERUPTION IN 1914
Photograph by P.J. Thompson
LASSEN VOLCANIC
NATIONAL PARK
ONE of the greatest fields of former volcanic activity in the world lies in the northwestern corner of the United States. Its lavas cover a quarter of a million square miles. Most of this area, however, has long since been covered by forest or other vegetation.
Of the great chain of volcanoes which stretched along the northern Pacific coast but one, Lassen Peak, remains active. The other fire monsters are dead, or at least in an age-long sleep, ice covered and apparently tamed. In fact, no other volcano in this country, outside of our Territories of Hawaii and Alaska, is known to have been active in the recent past.
As late as 1914—1916 Lassen Peak, the most southerly of the Pacific coast chain, was in spectacular eruption. For two hundred years it too had been quiet. Then, just before the World War broke out, an explosion from its summit ushered in a new period of eruption, feeble, perhaps, when compared with its violent past, but nevertheless a magnificent spectacle.
Following this the volcano was in almost constant eruption for nearly two years. The most spectacular outburst was the superheated gas blast which rushed down the mountain and out into two valleys. For ten miles it destroyed or withered every living thing in its path. Snow fields were instantly turned to water which flooded the lower valleys in rushing tides. The pathway of this interesting phenomena to-day is known as the devastated area.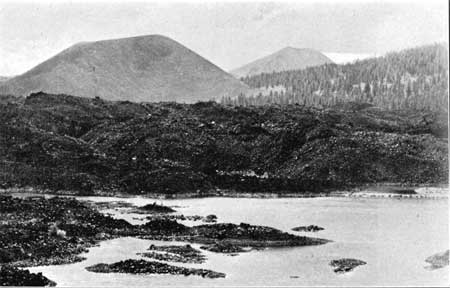 LOOKING WEST ACROSS BUTTE LAKE AND THE CINDER CONE LAVA FLOWS
Photograph by R.H. Finch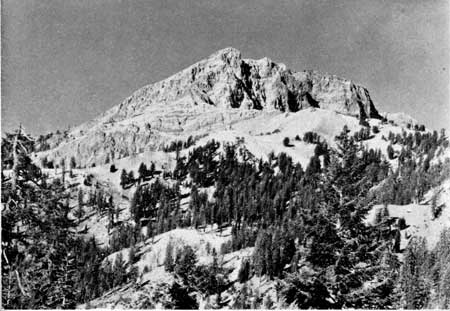 BROKEOFF MOUNTAIN, AS SEEN FROM THE LASSEN PEAK TRAIL
Photograph by R.H. Finch
Continued >>>