| | |
| --- | --- |
| National Parks Portfolio | |

Hot Springs
---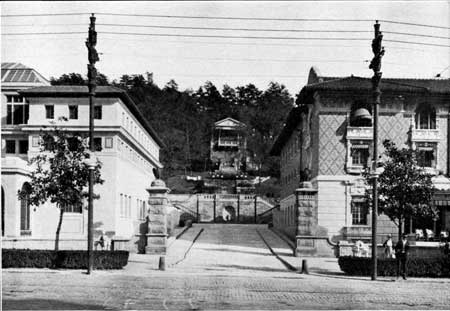 ENTRANCE TO THE HOT SPRINGS NATIONAL PARK
HOT SPRINGS NATIONAL PARK
FROM the slopes of a picturesque wooded hill among the wild and romantic Ouachita Mountains of Arkansas flow springs of hot water used for many generations in the belief that they would alleviate certain bodily ills. Tradition has it that their curative properties were prized by the Indians before the Spanish invasion. The hot springs were probably visited in 1541 by De Soto, who died the following spring on the Mississippi about a hundred miles away. It is tradition that the warring Indian tribes suspended all hostilities at these springs, whose neighborhood they called "The Land of Peace." Government analyses of the waters disclose more than twenty chemical constituents.
The hot springs were reserved for national use in 1832, forty years before the wonders of the Yellowstone first inspired Congress with the idea that scenery was a national asset deserving of preservation for the use and enjoyment of succeeding generations. No esthetic consideration was involved in this early act of national conservation. The motive was to retain these unique waters in public possession to be available to all persons for all time at a nominal cost.
Hot Springs Mountain, from whose sides flow the hot waters, is about fifty miles west by south from Little Rock.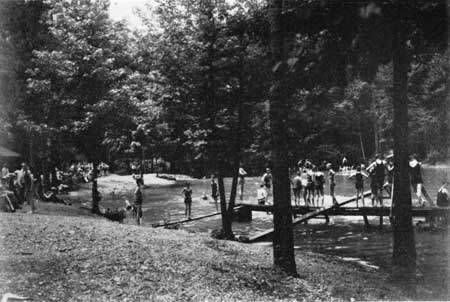 SWIMMING POOL IN AUTO CAMP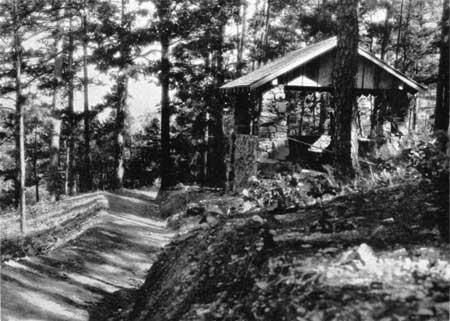 SHELTER HOUSE AND TRAIL ABOVE IRON SPRING, HOT SPRINGS MOUNTAIN
Continued >>>