| | |
| --- | --- |
| National Parks Portfolio | |

National Monuments
---

A GLIMPSE OF THE BEAUTIFUL MUIR WOODS
Photograph by J.K. Piggott
THE NATIONAL MONUMENTS
in the FOREST PRIMEVAL
WITHIN ten miles of the city of San Francisco, in Marin County, California, lies one of the noblest forests of primeval Redwood in America. That it stands to-day is due first to the fact that its outlet to the sea instead of to San Francisco Bay made it unprofitable to lumber in the days when redwoods grew like grain on California's hills.
The Muir Woods National Monument contains over four hundred acres. Interspersed with the superb Redwood, the Sequoia sempervirens, sister to the Giant Sequoia of the Sierra, are many fine specimens of Douglas fir, madrona, California Bay, and mountain oak. The forest blends into the surrounding wooded country. It is essentially typical of the redwood growth, with a rich stream-watered bottom carpeted with ferns, violets, oxalis, and azalea. Many of the redwoods are magnificent specimens and some have extraordinary size. Cathedral Grove, and Bohemian Grove, where the famous revels of the Bohemian club were held before the club purchased its own permanent grove, are unexcelled in luxuriant beauty.
This splendid area of forest primeval was named by its donors, Mr. and Mrs. William Kent, in honor of the celebrated naturalist, John Muir.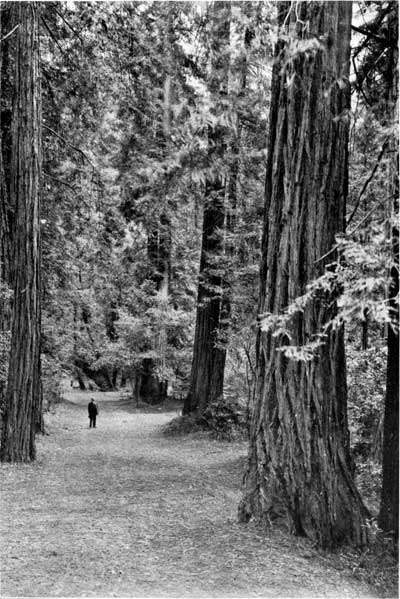 MUIR WOODS
It is one of the noblest forests of redwood saved from the ax
Photograph by H.C. Tibbitts
Continued >>>