| | |
| --- | --- |
| National Parks Portfolio | |

Carlsbad Caverns
---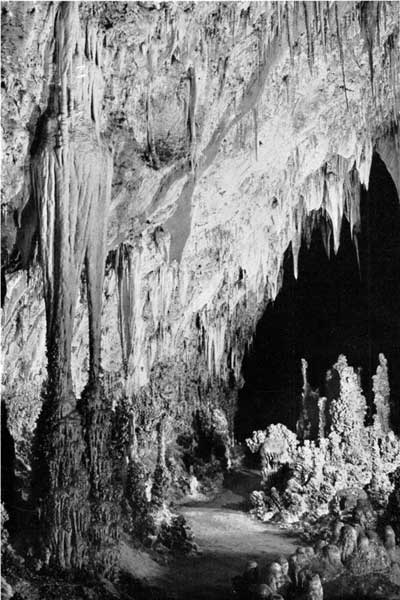 THE VARIETY OF LIMETONE DECORATIONS IS AMAZING—SCENE IN THE BIG ROOM
Photograph by Herbert Kennicott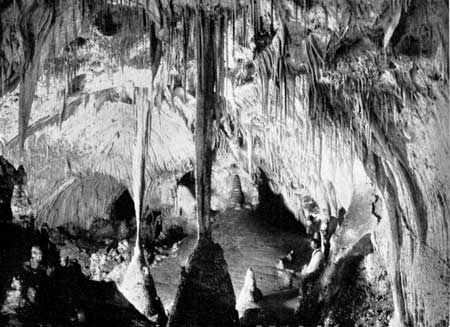 THE DOME ROOM OF CARLSBAD CAVERNS
CARLSBAD CAVERNS
NATIONAL PARK
NOWHERE is the great age of the earth more strongly emphasized than in the gigantic series of chambers and passageways making up Carlsbad Caverns. Once part of the solid mountains, countless ages ago subterranean waters gradually penetrated, softening and carrying away particle after particle of limestone and forming room after room.
When word of the glories of these caverns first reached the outside world, an expedition sent by the National Geographic Society spent six months exploring them, covering a distance of twenty-two miles, but the limits of the caverns were not touched. Several more miles have since been explored. How many more miles this underground wonder penetrates into the earth is still a matter of speculation and a lure for the explorer.
Particularly impressive is the Big Room, nearly four thousand feet long and six hundred wide. From wall to wall, and from floor to the ceiling three hundred feet above, it is filled with an incomparable array of stalagmites and stalactites of gleaming onyx and of infinite size and variety.
Full recognition of the subterranean wonders contained in Carlsbad Caverns was given in 1930, when the area, formerly a national monument, was given national park status.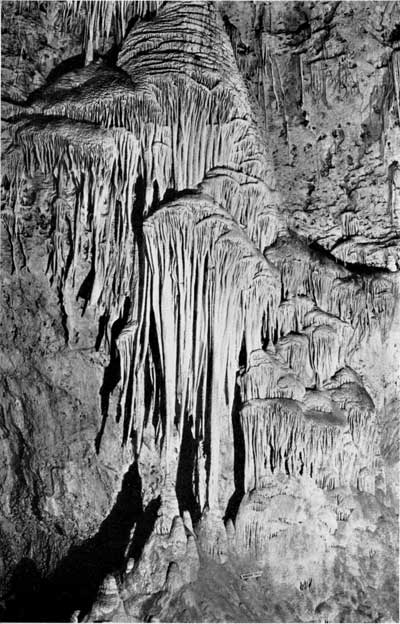 NIAGRA FALLS IN BIG ROOM
Continued >>>