Camping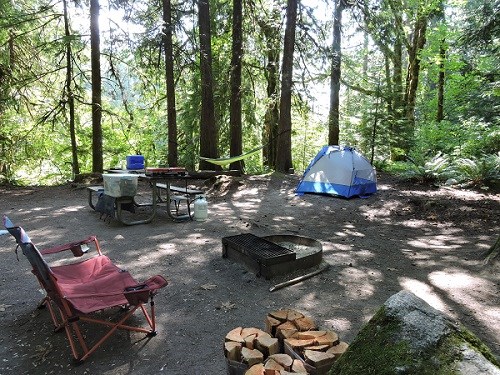 Tips and Regulations
All sites in campgrounds along State Route 20 can be reserved in advance. When possible, make

reservations

as early as you can.

Overnight camping or parking is only allowed in designated campgrounds or campsites. There is no dispersed camping in the park complex.

Campsite occupancy is limited to eight people, three tents, and two vehicles per site.

Camping is limited to 14 days from July 1 through Labor Day (first Monday in September) and to 30 days the rest of the year.

Firewood, ice, gas, and other services are not available in the park complex. The nearest services are in the town of Marblemount, WA.

Don't move firewood! Destructive insects and diseases can be transported in firewood. Always buy firewood near where you will burn it.
Drive-in Campgrounds
All drive-in campgrounds along State Route 20 are on a reservation system through recreation.gov. Campground reservations are accepted during the specified season dates on the recreation.gov website. Campgrounds may be open before or after the reservation season on a first-come, first-served basis. See Campground Details below for more information, reservations, and current status


Last updated: August 1, 2021