Scenic Drives at New River Gorge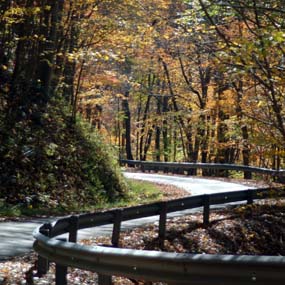 Fayette Station Road
Approximate Distance: 7.5 miles
Exploring Fayette Station Road is to travel back in time before the modern New River Gorge Bridge was built in 1977. This one hundred year-old road of hairpin turns winds down to the bottom of the gorge, across a narrow bridge, and up the other side. Visible along the way are vistas of the river and bridges, a hardwood forest, and remnants of the New River Gorge communities that once teemed with activity.
more...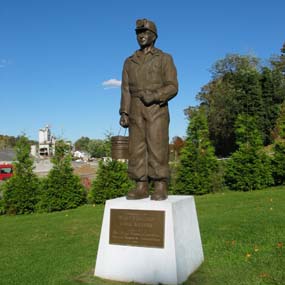 Coal Heritage Trail
Approximate Distance: 146 miles from Bluefield, WV to Fayetteville, WV

Traversing five Southern West Virginia counties between Fayetteville and Bluefield, this 146-mile route features many historic sites associated with coal mining. The trail tells the story of resilient men and women who spent generations mining coal through harsh times and perilous conditions. For more information, ask for a brochure at a park visitor center.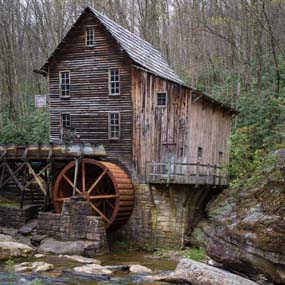 Babcock State Park
Approximate Distance: 18 miles from Canyon Rim Visitor Center via Route 19 North, Route 60, and 41 or 21.8 miles from Sandstone Visitor Center via Route 20 North, Route 31 and 41.
Babcock State Park, one of the oldest parks in West Virginia, is located within the boundaries of New River Gorge National River. A feature of the 4,000 acre park is a widely photographed grist mill. Within the park are log cabin accommodations, hiking trails, a stable, a lake for fishing and boating, and campsites.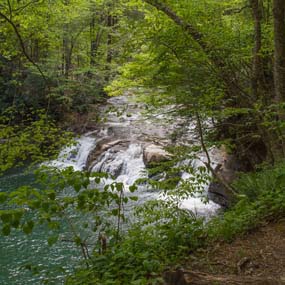 Glade Creek Area
Approximate Distance: 6.3 miles from Route 41
Estimated Travel Time: 30 minutes (One Direction)
Just before the bridge that crosses the New River to Prince is a gravel road that leads to Glade Creek. Known as the Royal Road, it passes the scattered foundations of the town of Royal 1/4 mile down the road. One mile down is Grandview Sandbar with picnicking, camping, and river access. Five miles further down is Glade Creek with a small campground, river access, and trailhead.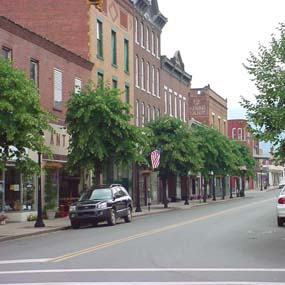 Hinton Historic District
Approximate Distance: 10 miles from Sandstone Visitor Center at I-64
Estimated Travel Time:15 minutes
The Hinton Historic District includes buildings dated from the late 1800s when Hinton was a railroad center. The downtown Summers County Visitor Center and Hinton Railroad Museum provide visitor services, exhibits, and walking tour information. The drive along Route 20 will take you past two scenic overlooks: Sandstone Falls Overlook and Brooks Overlook.

Last updated: December 31, 2014