Quinnimont

Quinnimont, named for the five mountains that surround the town, was first settled by Jacob Smith in 1827 for subsistence farming along a rich, fertile river bottom section of the New River.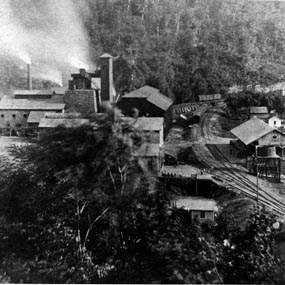 Industry came to Quinnimont in 1870 with the Quinnimont Charter Oak and Iron Company building of an iron furnace, which operated for three years. The main line of the C&O Rail was completed in the spring of 1873, and by fall the first shipment of coal was shipped out of Quinnimont, the first mining town of New River Gorge. Along with Thurmond, Quinnimont became a major shipping point for the New River Coal Fields.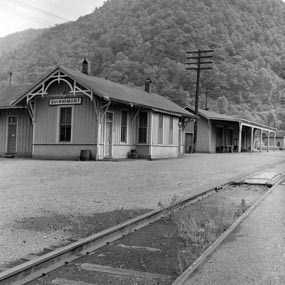 At its heyday, Quinnimont had a population of over 500 residents. The town had a railroad station that had two passenger trains with daily commutes to Beckley and one up Laurel Creek to Layland. The town boasted a general store, post office, baseball field, hotel, jail, and railroad boarding houses. Due to the segregation of the black and white communities, there were two churches and two schools. Later a roadside park was built along with a service station, diner, coal loading facility and a coal tipple.
The mining towns of New River Gorge were initially developed in very remote areas, requiring the miners to live in company constructed houses. The houses were strategically segregated between racial and ethnic groups, black from white, Welsh and English from Irish, Italians from Polish, in order to help prevent unionization efforts among the miners. In spite of these attempts at segregation and polarization, each miner, no matter what the color of their skin or background, was there to make a living and depended on each other for safety in such a dangerous underground environment. As one miner said "We are all black at the end of the day when we come out of that hell hole."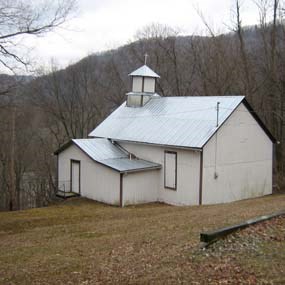 During the heyday of New River Gorge's coal mining industry, there were coal towns every 1/2 mile along the gorge. By the 1950's, most of these coal towns were totally abandoned with the closing of the mines they were built to support. Due to the loss of jobs, stores and lack of road access to the surrounding area, the residents moved on to other towns. But Quinnimont lives on as an active community because of its connection of RT 41 and the active rail yard.
Of the old Quinnimont, today you will still see the CSX railroad switching and holding yards, the two formerly segregated churches, remnants of the iron furnace, and the tall granite monument erected by his fellow "Coal Barons" to honor Col. Joseph Beury, as the first mining operator to ship coal from the New River fields.
Last updated: February 26, 2015