Grandview

Grandview provides some of the most dramatic scenery found in the park and is a popular place for hiking, picnicing, and sight seeing.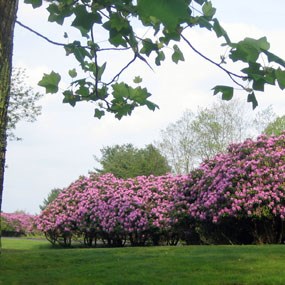 Grandview is a peaceful place to relax and unwind while enjoying outstanding views of the New River. From 1400 feet above the river at Main Overlook, visitors are rewarded with one of the most outstanding views in the park. On a clear day you can see directly into the heart of New River Gorge National Park and Preserve, including seven miles of the New River and its watershed. From Main Overlook visitors can also get a glimpse of some of the gorge's unique cultural history. From here you see an active railway and the town of Quinnimont, where the first coal was shipped out of the gorge in 1873. Don't miss the views from Turkey Spur Overlook, and be sure to walk the woodland trails.

Grandview is a great place to see the spectacular displays of Catawba rhododendrons that bloom here every spring. The purple Catawba rhododendrons bloom in mid May, while the white great rhododendrons bloom in July. The exact bloom times are not always consistent year to year, so check with a ranger at one of our visitor centers or check our facebook page for updates.
The Grandview section of the park includes overlooks of the New River, a visitor center (open seasonally), five hiking trails, ranger-led walks and talks, summer outdoor dramas, and picnic areas with playgrounds. Information about renting picnic shelters at Grandview can be found on the Permits and Reservations page of this website. Grandview is home to Theatre West Virginia, which features outdoor drama presentations from June through August.

Grandview was originally a part of the West Virginia State Park system. In 1939, the state of West Virginia purchased 52 acres of land at Grandview to develop a day use park. The Civilian Conservation Corps built roads, shelters, and a picnic area, all still in use today. Construction began in 1960 on the 1200-seat Cliffside Amphitheater. The children's playgrounds, recreation area, and additional walkways were built from 1961 to 1964. After more than 50 years as one of West Virginia's most popular state parks, Grandview was transferred to the National Park Service in 1990.
Directions
To reach Grandview from Beckley follow I-64 East five miles to Exit 129 B. From Lewisburg follow I-64 West forty miles to Exit 129. From either exit, turn right and follow Route 9 North six miles to Grandview.
Physical Address:
4700 Grandview Road
Beaver, WV 25813
Season and Hours
The Grandview area is open year-round. Grandview Visitor Center normally opens in June through August: Closed fall, winter, and spring.
Telephone
304-763-3715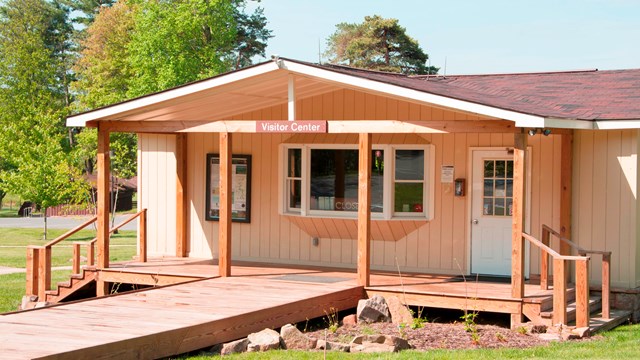 Grandview Visitor Center
The Grandview Visitor Center overlooks the deepest part of the gorge.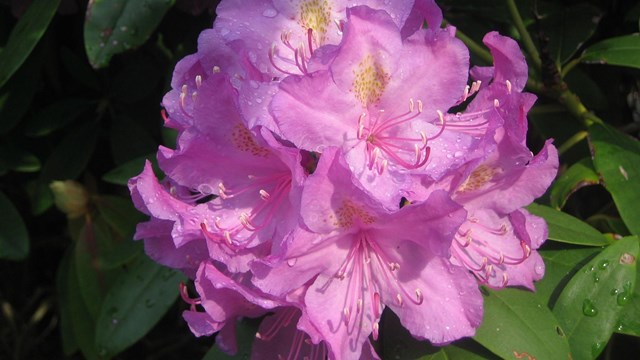 Rhododendrons
Learn more about the beautiful rhododendrons found at Grandview and throughout the park.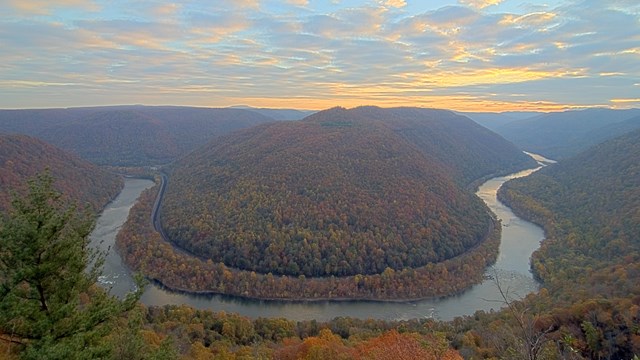 Explore the Gorge Video: Grandview
Explore the fantastic views, wildlife, and history of the Grandview area with Park Ranger Renee Hemmelgarn.
Last updated: June 12, 2022