Fayette Station Road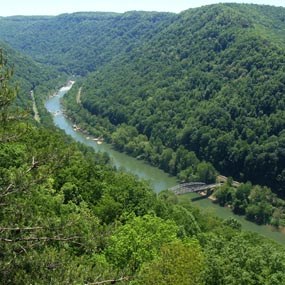 Exploring Fayette Station Road is to travel back in time before the modern New River Gorge Bridge was built in 1977. This one hundred year-old road of hairpin turns winds down to the bottom of the gorge, across a narrow bridge, and up the other side. Visible along the way are vistas of the river and bridges, a hardwood forest, and remnants of the New River Gorge communities that once teemed with activity.
In 1873 the C&O Railway opened this rugged wilderness and carried coal out of the gorge to ports in Virginia and cities in the Midwest. By 1905, thirteen towns sprang up between Fayette Station Road and Thurmond 15 miles upstream, about one per mile. Between the 1870s and the 1950s, West Virginia coal contributed significantly to the industrialization of the United States as it fed the nation's trains, factories, and fleets.
At river level, Fayette Station Road runs directly through remnants of the townsites of Fayette and South Fayette. The establishment, growth, and ultimate demise of these two towns represent the general life cycle of a town in the gorge. A landowner or mining company opened a coal mine and built company-owned houses and a store, creating a company town. Decades later, when the coal seam was exhausted or the mine closed because of changes in the marketplace, people moved away and these towns were ultimately deserted.
Today, the New River Gorge is known for its outstanding natural and scenic beauty. The many remains of the once vibrant towns, mines, and homes that filled the gorge are now mostly hidden beneath layers of native vegetation. Along Fayette Station Road, however, some remnants of the area's coal mining and railroad heritage prevail.

Directions
Leaving the parking lot of Canyon Rim Visitor Center,return back to the four-lane highway of Route 19. Turn right (north) onto US 19 and take your next right onto Lansing-Edmond Road (County Route 5 and 82). In 1/4 mile, turn right onto the road with a road sign marked "Fayette Station Road." The road forks almost immediately; take the left fork.
Fayette Station Road continues into the gorge on a series of two- and one-way roads, passing under the New River Gorge Bridge twice and passing exhibits along the road. At the bottom, cross over the reconstructed Fayette Station Bridge, which reopened in 1998 as the Tunney Hunsaker Bridge. Park in the Fayette Station parking area and see the wild waters here. GPS coordinates to the parking area are 38.06625⁰ N, 81.08130⁰ W. After leaving Fayette Station, the road winds back up to Fayetteville. The entire trip from the visitor center to Fayetteville takes about 40 minutes (without stopping).

Download the Fayette Station Road audio tour to listen to as you drive down the one way road to the bottom of the gorge and back up the other side.
Last updated: February 26, 2015