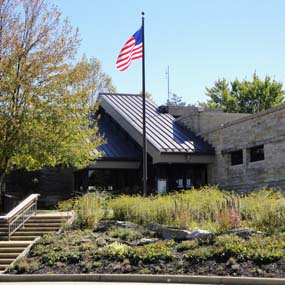 The primary purpose of Canyon Rim Visitor Center is to act as a visitor contact station for area information and for interpretation of the natural, cultural, recreational, and historic values of the New River Gorge. With an estimated 300,000 visitors each year, the center provides the park with a nationally recognized facility, revealing the beauty of New River Gorge National River to the nation and the world.
The use of natural materials in the building and surrounding landscape achieve a harmony between the visitor center and the rugged New River Gorge. These finely crafted materials of sandstone and red oak fuse with the exposed ledge of sandstone prevalent in this section of the gorge. As time passes, the harmony of the visitor center and the New River Gorge will be inseparable.
Features and Attractions
The visitor center features an exhibit room filled with photographs and exhibits on the people, towns, and industry of the gorge. Other displays focus on the recreation and natural history of the area. Visitors can enjoy two videos; on the construction of the New River Gorge Bridge, and on how the forces of nature created the massive V-shaped gorge. The auditorium provides visitors an orientation slide program on the park, and other special features and programs.
The most easily recognized attractions of the site are the views of the gorge and bridge. The back deck of the center offers a two-mile view southward into the park. Visitors discover the striking size of the gorge with one of the world's oldest rivers at the bottom. A short hiking trail descends into the gorge on a wooden boardwalk. The boardwalk has two observation decks which offer unobstructed views of the longest steel arch span in the western hemisphere and the mile wide gorge it spans. A fully accessible ramp provides access to the upper observation deck.