Alerts & Conditions
Coronavirus (COVID-19) Updates

In support of federal, state, and local efforts to slow the spread of the novel coronavirus (COVID-19) some park facilities including visitor centers, some campgrounds, and some restrooms are currently closed (see below for a full list of which facilities are open). Hiking trails and river accesses currently remain open. While the park remains open for use, services are limited, and visitors are encouraged to practice Leave No Trace principles. Please plan to pack out trash and use restroom facilities prior to visiting the park. Popular trailheads such as Long Point and Endless Wall can be very busy on weekends. Hikers are encouraged to spread out and check out some of the less popular trails throughout the park. For more information on hiking trails, check out our hiking page.
Many park programs and special events have been cancelled.

The National Park Service (NPS) urges people during this pandemic to adhere to guidance from the Centers for Disease Control and Prevention (CDC) and state and local public health authorities to protect visitors and employees.

While outdoor spaces remain accessible to the public in accordance with the latest health guidance, visitors should seek out areas that are not crowded to allow for adequate social distancing. Stay at least six feet away from people outside your immediate household.

In the event of an emergency, nearby medical service providers are limited. Rescue response may be delayed. Each incident increases risks for park staff and local first responders.

Backcountry or dispersed camping opportunities are available. Areas suitable for camping are located adjacent to trails such as Glade Creek, Brooklyn-Southside Junction, and Stone Cliff trails. Other sites are along the river, are accessible by boat. Camping is prohibited within 100 feet of developed trails. Please camp above the high water line if possible. Use existing sites and fire rings where provided. Dispose of human waste and dishwater properly. Carry trash out.
We are closely monitoring COVID-19 with the federal, state, and local authorities. For updates, visit www.nps.gov/coronavirus


What is open in the park?

Visitor Centers:

OPEN
CLOSED
NOTES
Canyon Rim Visitor Center
X
Entry is limited to no more than 25 people at a time
Sandstone Visitor Center
X
Grandview Visitor Center
X
Thurmond Depot
X

Campgrounds

OPEN
CLOSED
NOTES
Stone Cliff
X
Army Camp
X
Grandview Sandbar
X
Glade Creek
X
Brooklyn
X
War Ridge
X
Thayer
X
Meadow Creek
X
Gauley Tailwaters
X
Burnwood Group Site
X
Dunglen Group Site
X

Restrooms

OPEN
CLOSED
NOTES
Fayette Station
X
Cunard
X
Grandview Sandbar
X
Restroom by campground and boat launch
Grandview Sandbar Walk-in
X
Restroom by walk-in campsites
Glade Creek
X
Army Camp
X
Grandview Playground
X
Grandview Picnic Shelters
X
Picnic shelters 1, 2, 3-4
Sandstone Falls
X
Sandstone Falls Overlook
X
Overlook on Route 20
Richmond Hamilton Farm
X
Brooks Falls
X
Meadow Creek Campground
X
Kaymoor Top
X
Fern Creek
X
Endless Wall Trailhead at Fern Creek
Nuttall
X
Endless Wall Trailhead at Nuttall
Thurmond Depot Vault
X
Outside the depot
Long Point
X
Stone Cliff
X
Rend Trail
X
Short Creek
X
Dunglen
X
Nuttallburg
X
Burnwood
X
Arrowhead Trails
X
Gauley Tailwaters
X
Main Restroom at Gauley Tailwaters (Gauley River National Recreation Area)
Gauley Tailwaters Vault
X
restroom at campground (Gauley River National Recreation Area)
Woods Ferry
X
(Gauley River National Recreation Area)
Masons Branch
X
(Gauley River National Recreation Area)


COVID 19: Visitor Guidance
Slowing the spread of novel coronavirus is everyone's responsibility.
For those at higher risk of serious illness, such as the elderly and people with underlying conditions, please take extra caution.
Following CDC guidance, NPS Public Health Service Officers recommends that everyone should take the following routine precautions:
Avoid close contact with sick people.

Avoid touching your eyes, nose, or mouth.

As always, it is especially important to clean hands after going to the bathroom; before eating; and after coughing, sneezing or blowing your nose.

Wash with soap and water to destroy the virus. Wash your hands for at least 20 seconds.

While an alcohol-based hand sanitizer that contains 60%–95% alcohol can be used, it's best to reserve those resources for work locations where soap and water are not readily available.

If your hands are visibly dirty, soap and water should be used rather than hand sanitizer.

Clean and disinfect frequently touched objects and surfaces. Regular household cleaners will destroy the virus.

Most importantly, stay home when you are sick in order to avoid exposing others.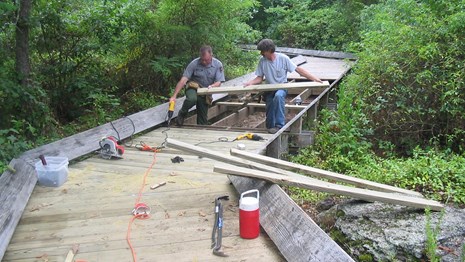 Road and Trail Closures
Check for any road and trail closures that might affect your visit.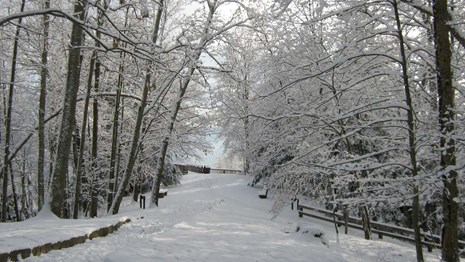 Weather
Be prepared and check the local forecast before hitting the trail or heading down the river.
Last updated: March 31, 2021