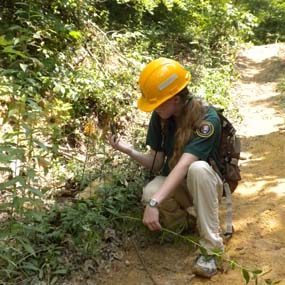 Park Ambassador
Park Ambassador positions require a commitment of two to six months of volunteer service providing interpretive and educational services to park visitors at our visitor centers, day use areas, and while roving trails.
Adopt-A-Stream
Adopt-A-Stream positions require a commitment to visit adopted stream area 4 times/year to pick up and remove litter and trash from stream/river banks and riparian zone.
more...
Information Assistant
Information Assistants provide orientation, information, and interpretation to visitors on a one-to-one or group basis that will facilitate a safe and informed visit.
more...
Oral History Interviewer
Oral History Interviewers contact park neighbors to set up oral history interviews and conducts interviews following the park Oral History Standard Operating Procedures.
more...
River Patrol
River Patrol volunteers assist the river patrol rangers with river operations within New River Gorge National River, Gauley River National Recreation Area, and the Bluestone National Scenic River.
more...
Education Program Presenter
Education Program Presenters serve as members of the park's education program helping with developing, coordinating, and presenting pre-, on-, and post-site educational activities related to park themes.
more...
Natural Resource Management Intern
Natural Resource Management Interns perform various technical and non-technical tasks in natural resource management including monitoring and data collection, recording of data collected, and supporting the Long Term Ecological Monitoring System project.
more...
Cultural Resource Management Assistant
Cultural Resource Management Assistants work out of the Glen Jean office performing a variety of duties including organizing of cultural records, maps, reports, and files, cataloging museum artifacts, and conducting archeological site reconnaissance.
more...
LTEMS (Long Term Ecological Monitoring System)
Each year the National Park Service monitors the health of the New River, through LTEMS (Long Term Ecological Monitoring System). Volunteers are needed each summer to assist National Park Service staff with this important project. LTEMS work normally takes place for two weeks in August. more...