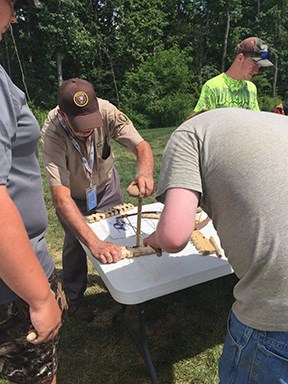 Job Title: Cultural Resource Management Assistant

Major Duties:
Volunteer(s) will support the implementation of the cultural resource program; organize and update the programs records, maps, reports, and files; clean, catalog, label and curate the artifact collections; and read and review NERI cultural resource documents and reports. Individual(s) will input data on archeological sites into the Access and Geographic Information system databases; accurately complete West Virginia State Historic Preservation Office site record forms; use global positioning system to record locations of New River Gorge National River archeological sites; conduct archeological site reconnaissance, surface artifact collection, and basic excavation activities; and inventory, maintain, and construct archeological equipment. VIP's may give talks to school and other groups on the park's cultural resource management program.

Work Location:
Park headquarters, Glen Jean, WV

Work Environment:
A significant amount of work is performed indoors, in an office. However, a limited portion of the work is performed outdoors in rugged terrain with dense vegetation. Field work may involve travel by foot and may result in exposure to biting insects, poisonous snakes, poisonous plants and varying degrees of adverse weather conditions and temperatures. Work may require long periods of standing, walking over rough, uneven or slippery surfaces, and driving vehicles on rough roads.

Work Schedule:
8 - 32 hours per week, Work times will be set by supervisor, Monday – Thursday

Uniform:
VIP shirt, name badge, and hat supplied by park, to be worn with jeans, pants, or short (not faded and without holes), and tennis or dress shoes.

Skills and qualifications needed:
Required: Individual must be able to work in an independent, effective and efficient manner on assigned tasks.
Desired: Knowledge of Appalachian and West Virginia history.

Supervision:
Cultural Resource Management Specialist