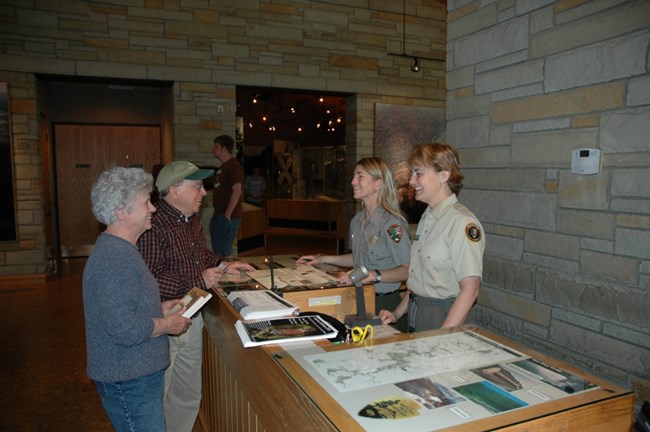 Job Title: Information Assistant
Major Duties:
Assist in staffing a visitor contact station within the park including: professionally representing the National Park Service by providing very high quality customer service; opening and closing the facility; providing orientation, information, and interpretation to visitors; telling visitors about park activities; informing visitors of potential safety hazards; distributing maps and brochures as requested; operating a cash register and selling bookstore merchandise; accurately collecting and accounting for monies; and operating basis audio-visual equipment.
Rove trails and grounds within Park Day Use Areas to assist park users with orientation, information, and interpretation of the park; inform visitors of potential safety hazards; distribute maps and brochures as needed.
Work Location:
Sandstone Visitor Center, Canyon Rim Visitor Center, Grandview Contact Station, Thurmond Depot
Work Environment:
Volunteer will have daily contact with visiting public and park staff, and will have occasional contact with park land owners and park neighbors. Some contacts may deal with problems, complaints, or conflicts. Standing for long periods of time, walking, bending, lifting, and sedentary work is required. Work is often performed indoors with occasional out-of-doors roves and point-duty that may result in exposure to temperature extremes, rain, wind, and direct sunlight. The terrain where roving and point-duty occurs may be rugged and uneven.
Work Schedule:
4-40 hours per week, 9:00am – 5:00pm
Sunday - Saturday, seasonal or year-round
Clothing:
VIP shirt, name badge, and hat supplied by park, to be worn with jeans, pants, or slacks (not faded and without holes), and tennis or dress shoes
Skill and qualifications needed:
Required: Ability to communicate and work with the public, to learn the cultural and natural history of the park, to read maps, and to give directions.
Desired: Previous experience in working an information desk, personal knowledge of park natural and cultural history, knowledge of park and area road and trail systems, and certification in basic first aid.
Supervision:
District Interpreter or Park Interpreter