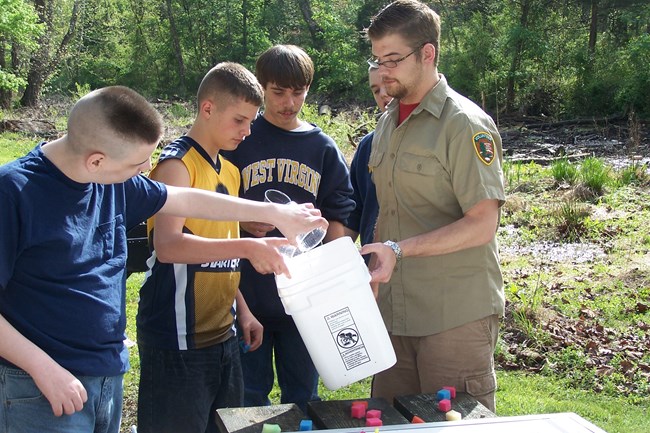 Job Title: Education Program Presenter

Major Duties:
Volunteer will serves as a member of the park's education program to help with developing, coordinating, and presenting pre-, on-, and off-site educational activities related to park themes. This may include presenting or leading educational programs, activities, and/or demonstrations at one of the educational festivals held during the year or for water resource education and school field trips. Volunteer(s) will also assist with logistics for educational programming, serve as a group leader, or other duties required too make the event a success. Individual(s) will help with developing educational programs and activities, prepare educational materials, or assist a program presenter.

Work Location:
Sandstone Falls, Camp Brookside, Sandstone Visitor Center, Grandview, Thurmond, Canyon Rim Visitor Center, or Burnwood

Work Environment:
Volunteer will have contact with Students, teachers, the public, and park staff. Individual will have to deal with a variety of conditions and issues that may arise while on duty. Standing for long periods of time, walking, bending, lifting, and sedentary work is required. Work is often performed out-of-doors at different locations that may result in exposure to temperature extremes, rain, wind, and direct sunlight. The terrain where the activities are being held may be rugged and uneven.

Work Schedule:
6- 8 hours per day, Work times will vary with each program, Monday - Friday, intermittent throughout the year

Uniform:
VIP shirt, name badge, and hat supplied by park, to be worn with jeans, pants, or slacks (not faded and without holes), and tennis or dress shoes

Skills and qualifications needed:
Required: Ability to communicate and work with children, teachers, the public, and park staff and independently complete organizational assignments for educational programming.
Desired: Previous experience as a teacher, or environmental education instructor. Basic knowledge of the cultural and natural history of the park.

Supervision:
District Interpreter and/or Environmental Education Specialist