Park Ambassador - Canyon Rim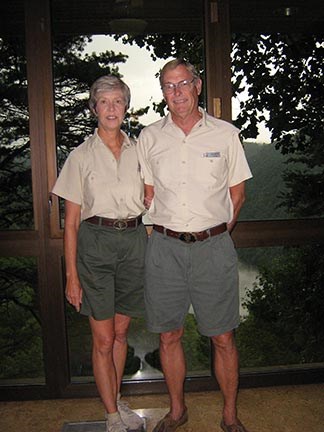 This is a three to six month volunteer position

Major Duties: Assist in staffing Canyon Rim Visitor Center including: professionally representing the National Park Service by providing very high quality customer service; opening and closing the facility; providing orientation, information, and interpretation to visitors; telling visitors about park activities; informing visitors of potential safety hazards; distributing maps and brochures as requested; operating a cash register and selling bookstore merchandise; accurately collecting and accounting for monies; and operating basic audio-visual equipment. Rove trails and grounds within park day use areas to assist park users with orientation, information, and interpretation of the park; inform visitors of potential safety hazards; distribute maps and brochures as needed, and pick up trash and litter along the trails.

Work Location: Canyon Rim Visitor Center, New River Gorge National Park and Preserve
Work Environment: Volunteer will have daily contact with park visitors and staff, and will have occasional contact with park land owners and park neighbors. Standing for long periods of time, walking, bending, lifting, and sedentary work is required. Work is performed indoors and out-of-doors with roving, point-duty, and maintenance duties resulting in the exposure to temperature extremes, rain, wind, and direct sunlight. The terrain for outside duties may be rugged and uneven.

Work Schedule: For use of the RV trailer pad, each volunteer is required to work a minimum of 32 hours per week. Duty hours will be 8:45am - 5:15pm
Uniform: VIP shirt, name badge, and hat supplied by park, to be worn with khaki Docker-style pants (not faded and without holes), and hiking boots, tennis shoes, or dress shoes
Skill and qualifications needed: Ability to provide quality customer service; to communicate and interact effectively and respectfully with a great diversity of people; to disseminate general orientation and information; to learn about the cultural and natural history of the park; to read maps and provide directions; to collect and account for monies and operate a cash register; and to deal effectively with high volume/high stress situations.
Supervision: North District Interpreter
Last updated: January 29, 2021