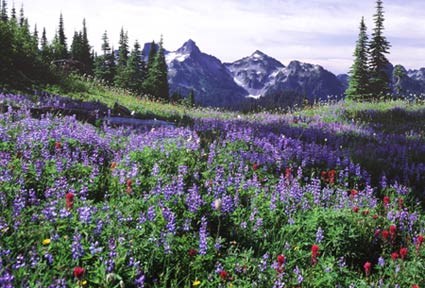 Paradise is famous for its glorious views and wildflower meadows. When James Longmire's daughter-in-law, Martha, first saw this site, she exclaimed, "Oh, what a paradise!" The park's main visitor center, the new Paradise Jackson Visitor Center, is located in the upper parking area. Paradise is also the prime winter-use area in the park, receiving on average 643 inches (53.6 feet/16.3 meters) of snow a year. Winter activities include snowshoeing, cross-country skiing and tubing. The road between Longmire and Paradise is plowed throughout the winter. See the current Road Status for updated information about park roads. Paradise is located 19 miles (30 km) east of the Nisqually Entrance and 12 miles (19 km) east of Longmire.
You might also consider visiting other parts of the park such as
Longmire
,
Sunrise
,
Ohanapecosh
, and the
Carbon River-Mowich Lake
areas.