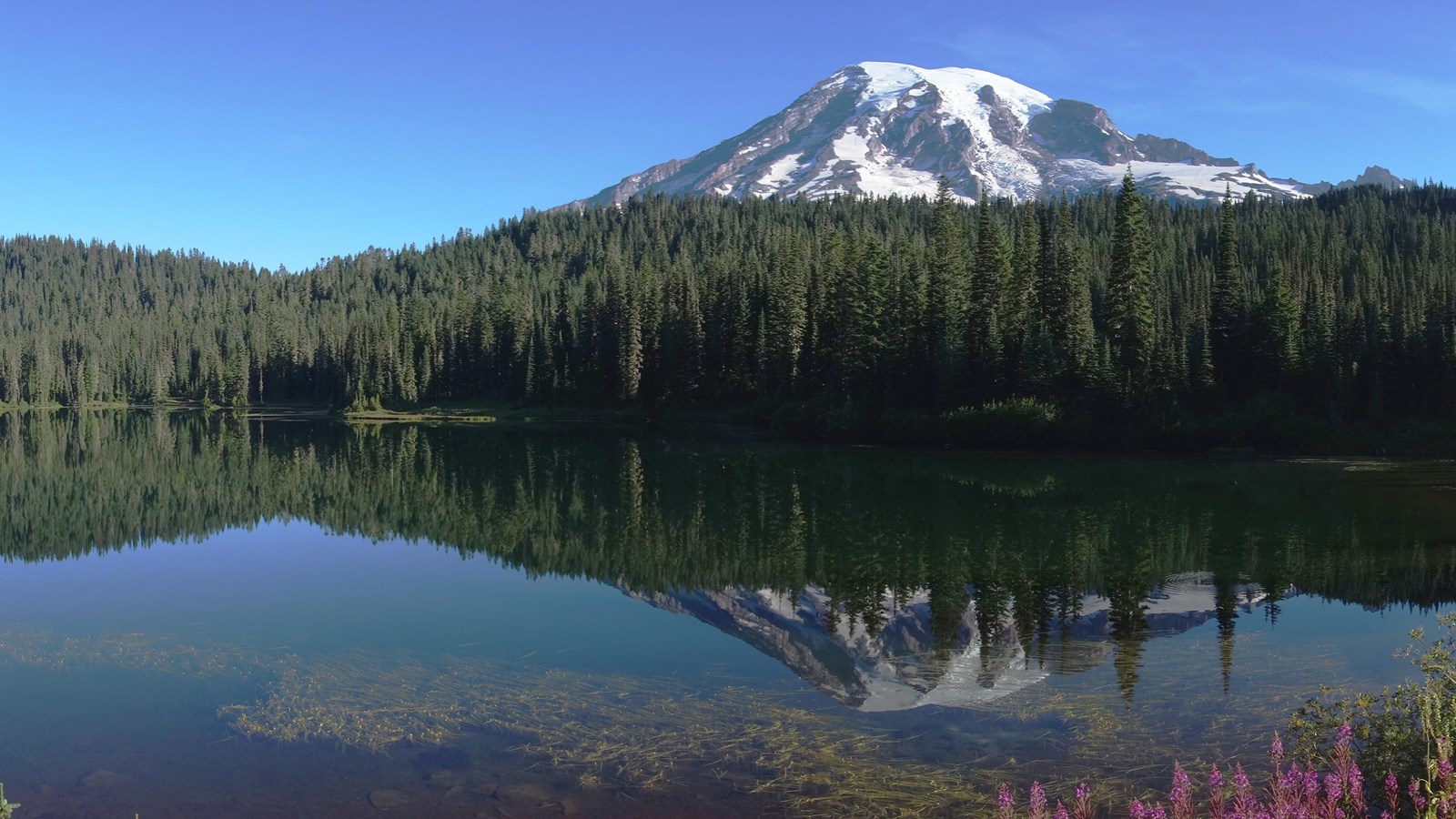 Location:
Approximately 1.3 miles east of the Paradise Road wye along Stevens Canyon Road.
Historical/Interpretive Information/Exhibits, Parking - Auto, Scenic View/Photo Spot, Trailhead
Season: Summer Only (June - September)
Reflection Lakes is located along Stevens Canyon Road which is open to vehicles during the summer season, typically from June-September.

This popular destination is named for lakes that reflect views of Mount Rainier. During the summer, hikers must stay on trails at all times to protect the delicate subalpine meadows around the lake. Boating and fishing is not permitted in Reflection Lakes. During the winter, snowshoers and hikers can still access the area and winter camp around the snow-covered lake. 

Hiking
Several trails intersect around Reflection Lakes. The Lakes Trail is an approximately three-mile loop trail that starts from either end of the parking lots next to the lakes. Starting from the west side of the lake, the trail climbs up to the ridge above the lake, follows the ridge to Faraway Rock, then descends back to the lake. Faraway Rock overlooks Louise Lake and Stevens Canyon to the east, as well as providing views to the southwest of the Tatoosh Range and Reflection Lakes. The trail is dirt, broken at times by tree roots and rocks. The eastern side of the loop from Faraway Rock to Reflection Lakes is steeper, with rock and log steps. Trails connecting to the Lakes Trail lead to Paradise through the Paradise Valley or along Mazama Ridge to the Skyline Trail.

Pinnacle Peak Trail is a popular 2.5-mile roundtrip trail that starts to the south of Reflection Lakes. The rocky trail climbs 1,050 feet up several switchbacks through subalpine meadows to a saddle between Pinnacle Peak and Plummer Peak in the Tatoosh Range. The trail can have patches of snow lingering well into summer and steep, exposed drop-offs. From the saddle, view Mount Rainier to the north or look south for glimpses of Mount Adams and Mount St. Helens. Pinnacle Peak Trail reaches the edge of the designated Butter Creek Research Natural Area (RNA). This is intended as a pristine natural area for ecological study and is closed to public use except pursuant to a scientific research permit, consistent with the national RNA system. Please stay on the trail and follow Leave No Trace principles.

The Wonderland Trail also connects to Reflection Lakes. To the west, the Wonderland Trail descends towards Narada Falls, while to the east the trail follows Stevens Canyon.  
Last updated: April 19, 2021