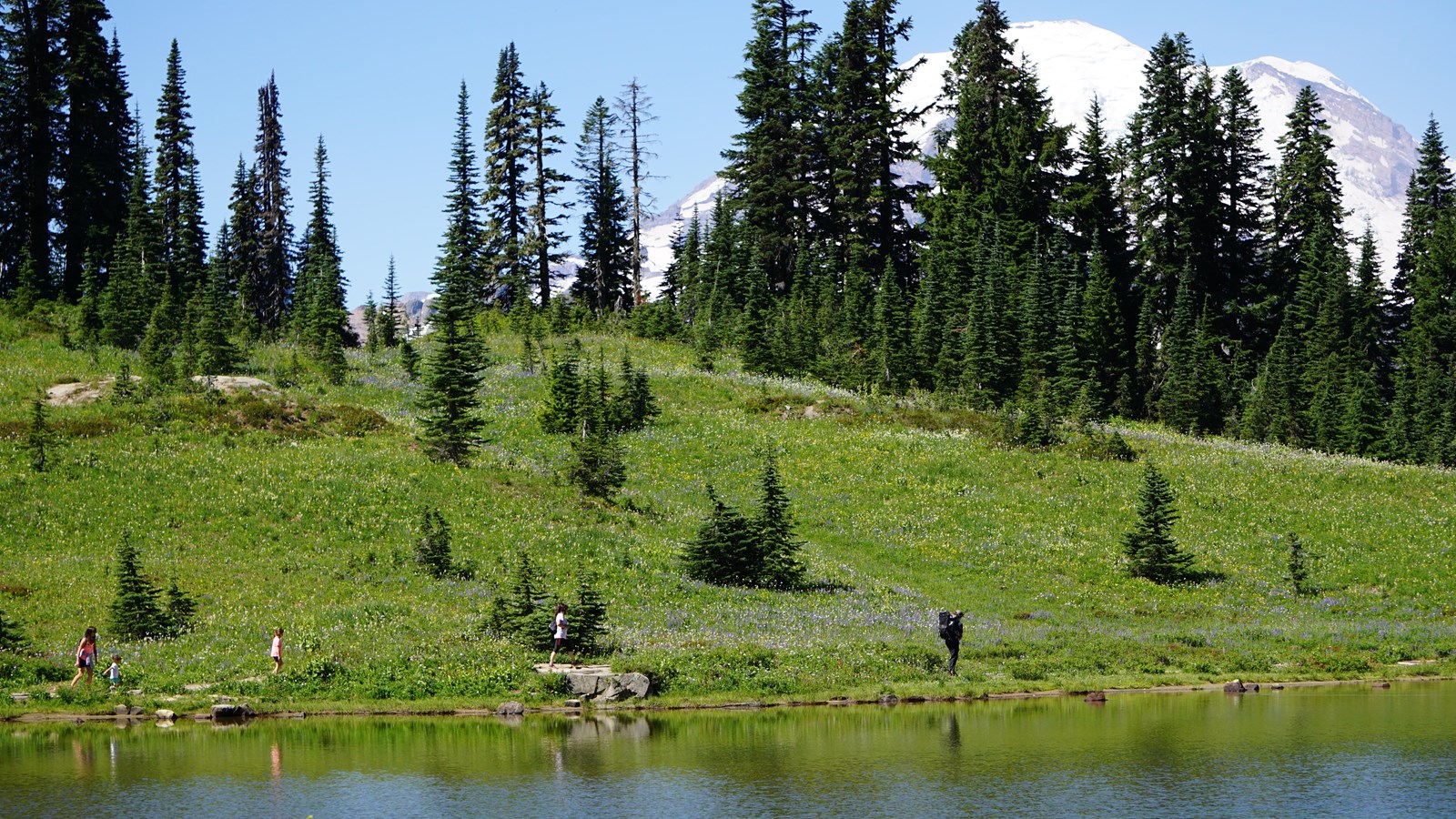 Location:
Tipsoo Lake is on the east border of Mount Rainier National Park via State Route 410.
Significance:
Contributes to the National Historic Landmark District
Benches/Seating, Historical/Interpretive Information/Exhibits, Information Kiosk/Bulletin Board, Parking - Auto, Picnic Table, Scenic View/Photo Spot, Toilet - Vault/Composting, Trailhead, Trash/Litter Receptacles
Season: Summer Only (June - October)
Tipsoo Lake via SR410 is open to vehicles during the summer only, typically from June to October. Wildflower peak bloom is typically mid to late July, with fall color starting in September. Tipsoo Lake can experience heavy visitation and parking can be limited. Plan ahead with an alternate destination in mind or come early or late in the day or on a weekday to avoid congestion.
 
Tipsoo Lake is a popular summer destination on the eastern edge of Mount Rainier National Park. Located at Chinook Pass along State Route 410, this subalpine lake is set in a glacier-carved basin and surrounded by subalpine wildflower meadows. The area experiences heavy snowfall in winter, with snow lingering well into June or even July. State Route 410 closes for the winter season.

In additional to viewing wildflowers in the meadows around the lake, observe tadpoles and frogs in the lake, and watch for birds. Swimming or wading is not permitted in the lake. Please stay on the trails at all times to avoid damaging the delicate meadow plants. Picnic tables are available near the main parking area.
Hiking
A network of easy trails, suitable for all ages, leads through the subalpine meadows and around the lake. Naches Peak Loop Trail (3.4 miles) is a popular hike. Starting from Tipsoo Lake, trail connects to the Pacific Crest Trail on the eastern edge of the park, then returns to Tipsoo Lake. This trail features superb wildflower displays in midsummer, huckleberries in early fall, and brilliant autumn colors. The Pacific Crest Trail crosses over SR 410 using the Chinook Pass Entrance Arch, which is actually a historic wood and stone bridge. Note that while dogs are allowed on the Pacific Crest Trail, pets are not permitted on the portion of the Naches Peak Loop Trail within the park or around Tipsoo Lake.

Tipsoo Lake is also the northern terminus of the Eastside Trail, which descends from the subalpine meadows around the lake to follow the Ohanapecosh River through old-growth forest to Ohanapecosh. 
Last updated: March 24, 2022