Place
Grove of the Patriarchs Trailhead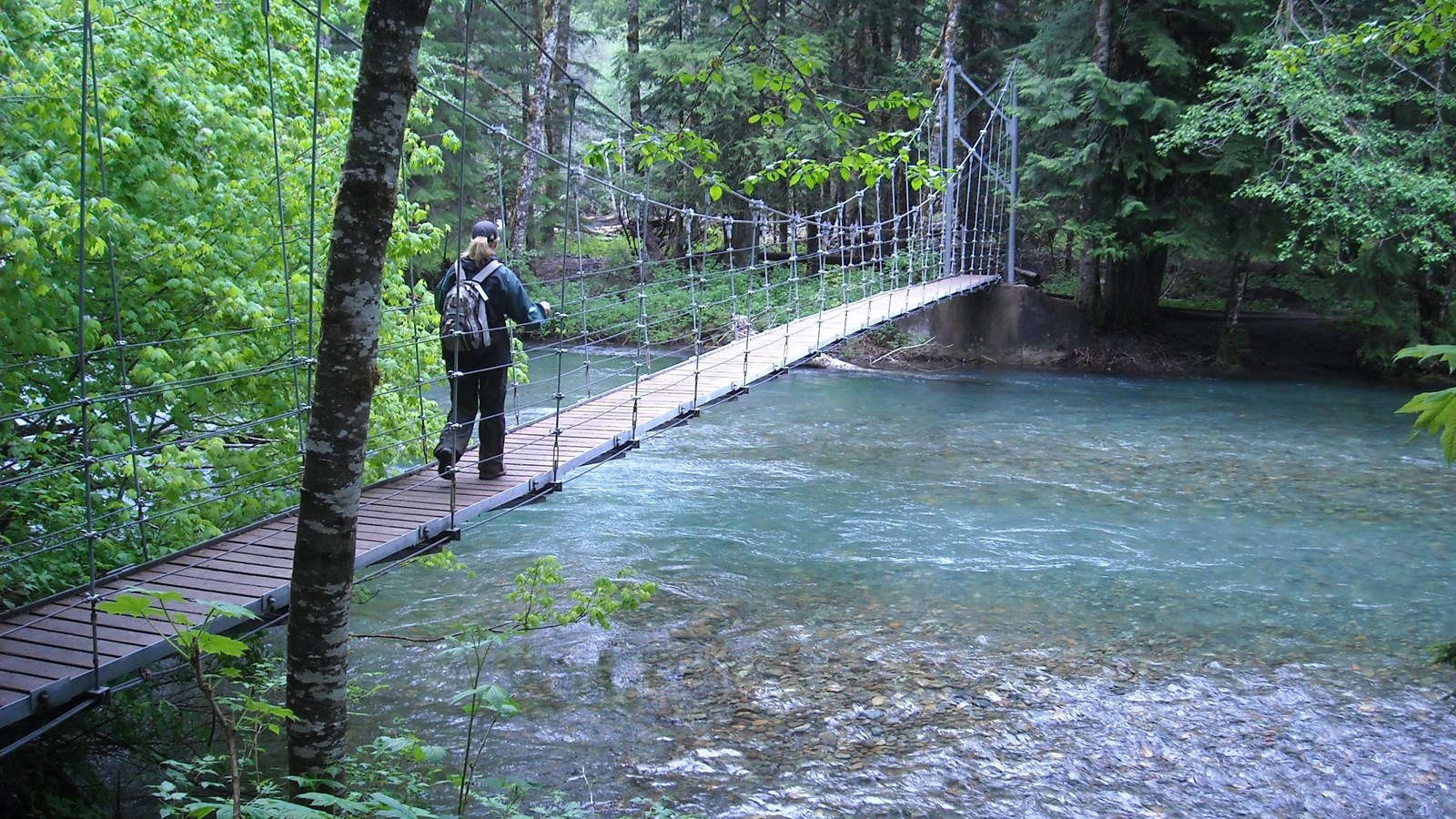 Location:
Located just beyond the Stevens Canyon Entrance on Stevens Canyon Road.
Parking - Auto, Restroom, Toilet - Flush, Trailhead
Season: Summer Only (May - October)
NOTE: The Grove of the Patriarchs is CLOSED to all public entry until further notice, due to flooding which caused significant damage to the suspension bridge that provides the only safe access to the area (News Release, 11/17/21). The Grove will remain closed until the bridge can be replaced, which will first require engineers to reevaluate the changing river flow to ensure a safe bridge design. It is not expected to be open for 2023 summer season. The Grove of the Patriarchs parking lot and restrooms will have normal seasonal access, along with the Eastside and Silver Falls Trails.

The Grove of the Patriarchs is a wonderland of old growth trees and a bustling forest floor! Wander through trails boardwalks, bridges, and dirt paths while winding through centuries old trees. This trail is a destination for thousands of hikers each year. The Grove of the Patriarchs is a 1.1-mile round-trip, self-guided nature trail.  

It begins at the Grove of the Patriarchs trailhead, just inside the park boundary beyond the Stevens Canyon Entrance. There is a parking lot and restrooms at the trailhead. Hike through the forest, and reach a short suspension bridge, connecting the trail to a small island in the middle of the Ohanapecosh River to a small loop on the island, consisting of boardwalks and dirt trail. Here, you can see the large old-growth Douglas-fir, silver fir, hemlock, and Western red cedar trees. Not to be overshadowed by the large trees, lush undergrowth can be found near the forest floor. Waysides line the trail giving visitors information on the area. Dogs are not permitted on this trail.

Hiking
Several trails connect to this trailhead. The Eastside Trail is accessed at the junction just before the suspension bridge crossing the Ohanapecosh River. Hikers can also access the Silver Falls Trail by crossing Stevens Canyon Road to the Eastside Trail Trailhead and continue 0.5 mile to meet up with the Silver Falls Trail. Continue another 1.2 miles to reach the Ohanapecosh Campground.
Last updated: June 2, 2023