Accessibility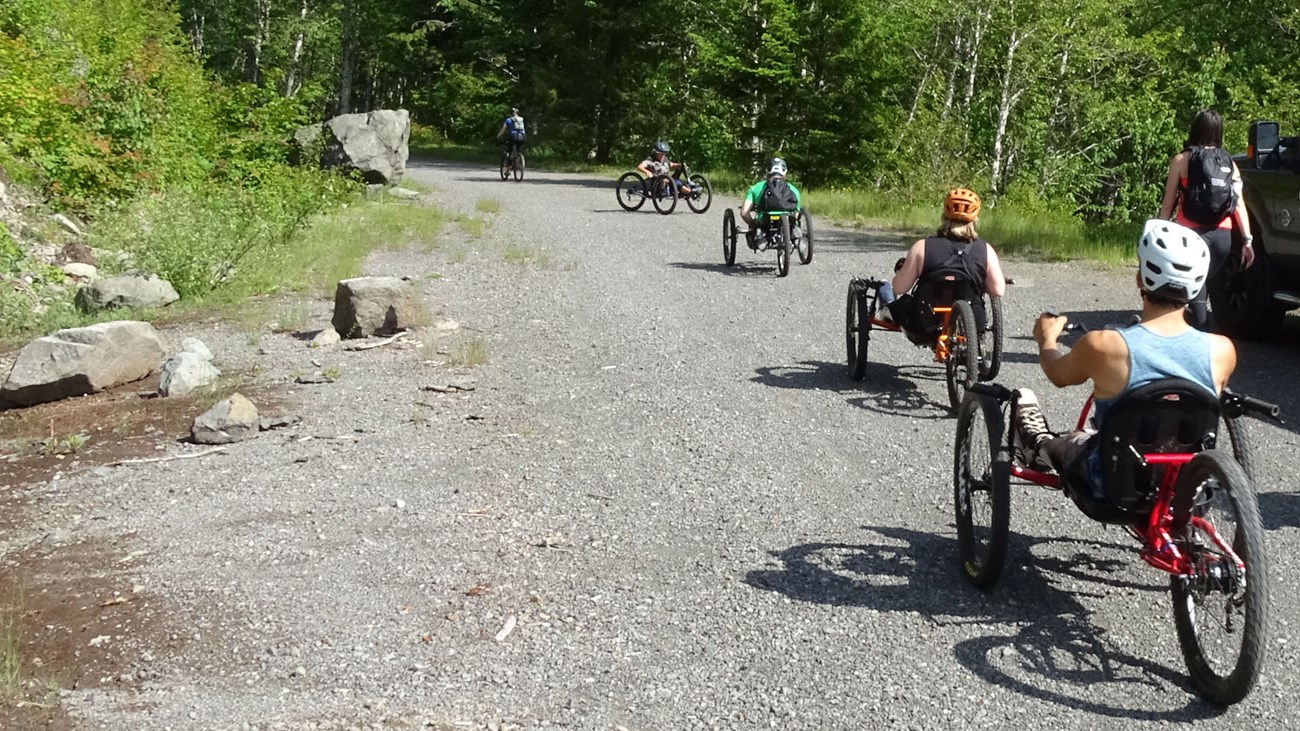 The National Park Service and its concessioners strive to make Mount Rainier National Park universally accessible. Many facilities are over 100 years old and accessibility is not always ideal. Through an on-going self-assessment and transition plan, Mount Rainier National Park is identifying and eliminating barriers to accessibility. Extra obstacles may be encountered because of the remote, wilderness nature of this park. Facilities described as accessible do not necessarily comply fully with federal standards and some accessible facilities are not marked with the international symbol.
Federal Relay Service
is available:
Voice: 1-866-377-8642
Voice Carry Over: 1-877-877-6280
Speech-to-Speech: 1-877-877-8982
Telebraille: 1-866-893-8340
For accommodation requests
or accessibility-related questions or concerns, please contact Emily Campbell by
email
or call 360-569-6713.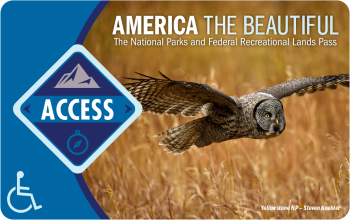 National Parks and Federal Recreational Lands Pass – Access Pass
The Access Pass is a free, lifetime, non-transferable pass for US citizens or permanent residents with permanent disabilities.
Admits owner and passengers in the same private vehicle to federal recreation sites that charge entrance fees. Visit recreation.gov for information about federal recreation sites.
Provides discounts on camping
Requires documentation of permanent disability and residency or citizenship. Learn more about types of documentation accepted and download an application.
Park Brochure
The park brochure is available in a variety of formats, including audio description and braille.
NPS Mobile App
The NPS Mobile App, which includes Mount Rainier National Park, is fully accessible and includes alternative text for images, combined with your device's built-in accessibility features. Download it for free before you arrive.
Features available in the app:
Self-guided tours of the Longmire Historic District, Nisqually Vista, Ohanapecosh Hot Springs, Sunrise geology and nature trail, Trail of the Shadows, and more
Exhibit panel transcriptions
Suggestions for "Things to Do"
Details about amenities throughout the park
Park news, calendar, and passport stamp locations
NPS Audio Description App (for iPhone)
The NPS Audio Description App includes audio description designed to assist blind and low vision visitors in navigating and experiencing exhibit spaces at Mount Rainier National Park. Use your phone's voiceover screen reader to experience the exhibits through bluetooth proximity triggers that automatically update and provide description for what's nearby. App content available in the Paradise and Sunrise visitor centers.
Service Animals
A service animal is allowed on trails and in park facilities if the animal has been trained to do work or perform tasks for the benefit of an individual with a disability. Under the ADA, Americans with Disabilities Act, "therapy animals" providing emotional support do not qualify as service animals. Note that pets are not allowed inside buildings, on trails, or in the backcountry even when these areas are snow covered. Learn more about service animals in national parks.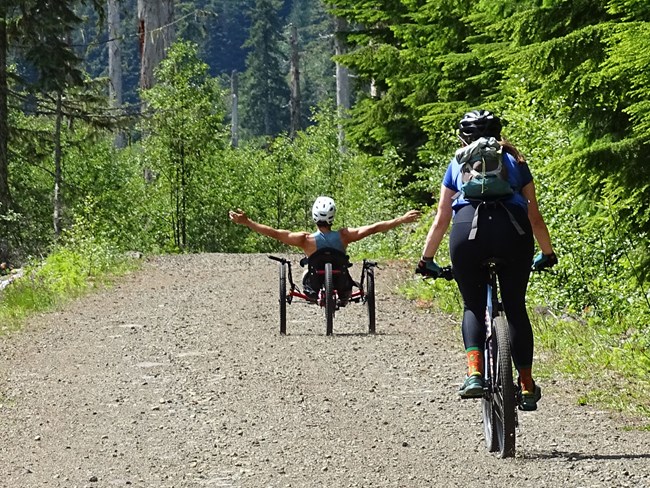 Accessible Facilities
Parkwide Information
Picnic Areas:
Picnic areas are located throughout the park, near visitor centers and at pullouts along roadways. Conditions around picnic areas vary, see individual park area information below or NPS app for specifics.
Restrooms:
Restrooms are available throughout the park. Buildings range from visitor centers with running water to portable toilets and vault toilets, which do not have running water. Restrooms are either accessible or usable, with few exceptions.
Elevation Ranges:
At Mount Rainier National Park, roadway elevations range from 1880 feet (573m) to 6400 feet (1950m). Trail elevations range from 1880 feet (573m) to the summit of Mount Rainier, 14140 feet (4392m).
Trails:
There are no fully accessible trails at Mount Rainier, but many usable trails. Detailed information for the most usable trails is located on each area page
Cell Phone Service:
There is very little phone service throughout the park, regardless of phone carrier. Paradise is the only area with consistent cell coverage, however there may be pockets of service while driving through the park. Prepare by downloading offline maps or using paper maps, checking road status, trail conditions, and alerts beforehand, and not relying on GPS for navigation.
Area Specific Information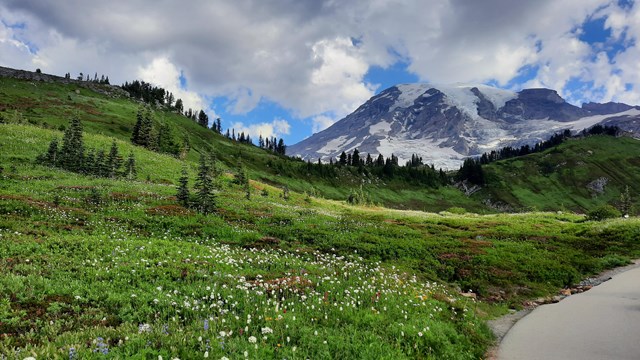 Accessibility at Paradise
Learn more about accessibility in the Paradise area.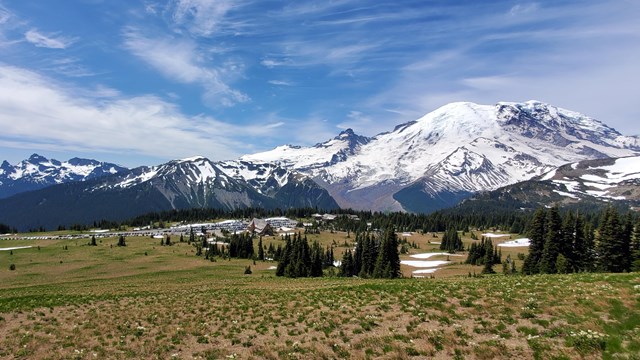 Accessibility at Sunrise
Learn more about accessibility at the Sunrise and White River areas.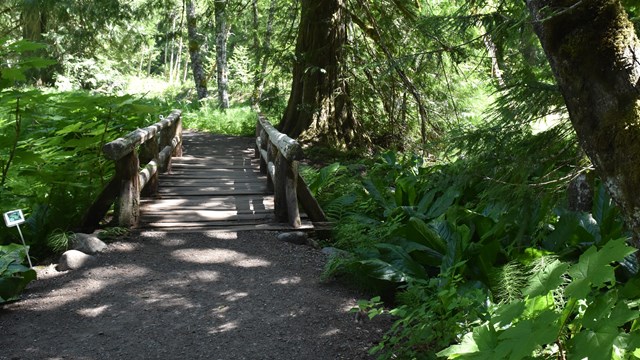 Accessibility at Longmire
Learn more about accessibility at Longmire and Cougar Rock.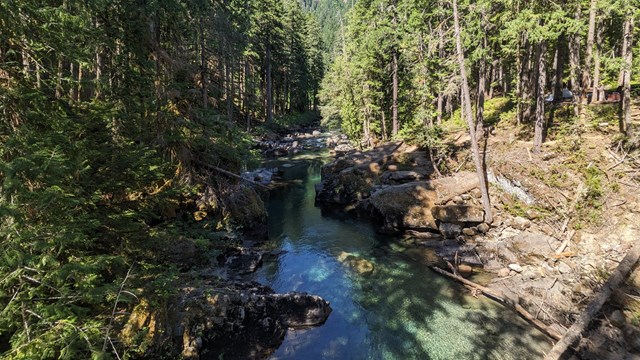 Accessibility at Ohanapecosh
Learn more about accessibility in the Ohanapecosh area.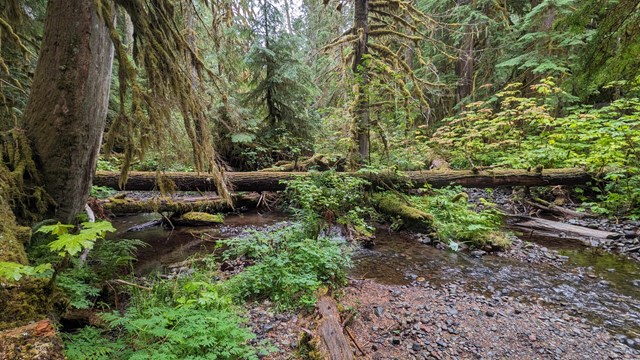 Accessibility at Carbon and Mowich Lake
Learn more about accessibility at Carbon River and Mowich Lake.


Last updated: September 19, 2023