Frequently Asked Questions about the Volunteer Program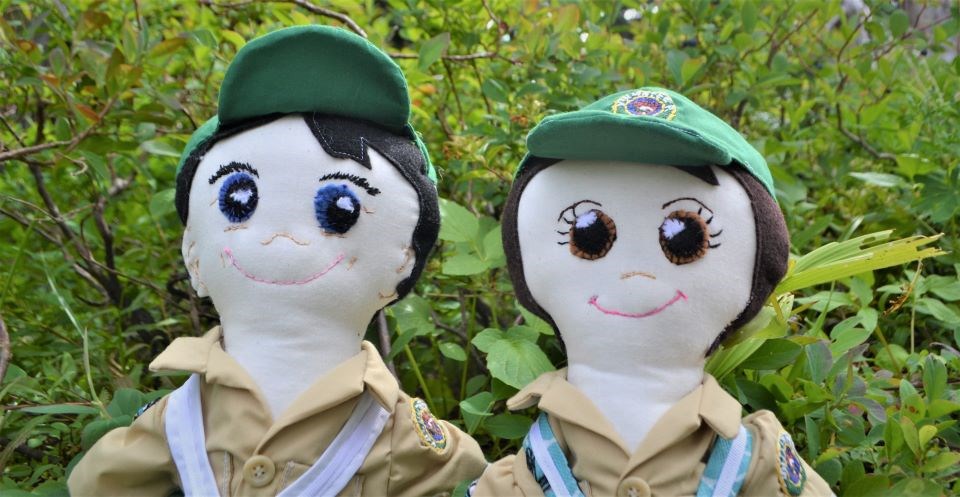 Don't see your question listed here? Contact the Volunteer Programs.
How can I sign up to be a volunteer?
Sign ups depend on the project. Many of our short term projects only lasting a day or two will have simple sign up procedures that you can do online or when you arrive. Often those types of projects are managed by one of our partner groups and you will register through them. Our calendar of events, blog, and Facebook page are all great places to find out about these types of events.

For long term or full time positions there is usually an application process. Opportunities and applications can be found on our Volunteer Opportunities page or directly on volunteer.gov. Applications will be kep on file for one year and you may be contacted for similar positions if you are not selected for that which you applied.

We are frequently creating new postions so if you don't see a job that suits you, contact the Volunteer Programs to have your name, skills, and interests put in our database and receive updates on new opportunities.
What can I expect when I show up to volunteer?
As you register for a short-term volunteer project, review the project description carefully for the proper time and place to meet. Allow plenty of time to travel to the park, as travel times are often longer than people expect. Identify yourself as a volunteer at the entrance station, and you will be welcomed without being charged an entrance fee. When you arrive at the work site, sign in with the project coordinator and get to know your fellow work party members. At the appointed time, the project leader will welcome you, brief you on the work at hand, and provide you with any training, tools, or protective gear you will need to accomplish the project safely. You can then begin the work!
Long term volunteers will receive specific intructions from their project supervisor.
Are housing or camping spaces provided to volunteers?
Free camping is available for volunteers for the night before and all nights of service assuming availability. Contact the Volunteer Programs to make a reservation. No short-term sites with hookups are available in the park, and our historic campgrounds do not accomodate RV or camper sizes larger than 24 ft in length. Showers are available for volunteers only at the Longmire Stewardship Campground. Depending on availability, different parties may have to share group sites. Few long term full time volunteers may qualify for housing or RV sites with hookups, however, the project description and your supervisor will notify you if applicable.

Find more information on housing and camping in the Volunteer Handbook.
What other benefits can I expect to receive as a volunteer?
Besides the intrinsic value of making a difference while working with other awesome individuals in a beautiful National Park setting, we offer our volunteers the following:
Free entrance into the park on days the volunteer is working

The option to stay in the Longmire Stewardship campground at no cost either the night before or the night of service

Housing for some full time long term volunteers (ask supervisor for details)

Training opportunities and the chance to develop job skills

A pass that is good for entrance into any national park for one year for volunteers who have served a total of 250 hours or more with the National Park Service

A name tag for volunteers who have served more than 200 hours at Mount Rainier

Brass recognition bars (to be worn with name tags) that commemorate service milestones of hours starting at 500, then in increments of 1,000, and years in increments of 5

Evaluation of work by the project supervisor that can be used for resumes and future job applications
Can I sponsor a volunteer project?
Sure! Contact the Volunteer Program Manager for details. Sponsors are needed to provide equipment, supplies, snacks, and recognition items for events, and will be acknowledged in all publicity for the sponsored event.
Can my children volunteer?
Yes, though not all volunteer projects are suitable for children. Check the project description for details. All children under the age of 18 must have written permission from a parent or guardian before volunteering. If volunteering in a group, permission forms will be provided at check in or when you register. If the person under 18 is volunteering individually, there will be a section on their SF-301A Service Agreement form the parent or legal guardian will have to complete.
Can international visitors volunteer?
International volunteers are welcome! Special regulations do apply, however. Long-term international volunteers must sign up for a specific volunteer project, then apply for and receive a J-1 Visa before traveling to the United States, a process that typically takes about six weeks. Proof of health insurance is also required. If you're already in the United States under a J-1 Visa, or under an educational pass such as the F-1 Visa, you may volunteer with permission from your original sponsor. Short-term visitors may volunteer without a J-1 Visa only if they receive no reimbursement of any kind, including housing or waivers of camping fees. For more information about the international volunteer program, visit the National Park Service's International Volunteers Frequently Asked Questions page.
I'm a member of a club, organization, or business. Can we volunteer as a group?
Absolutely! We welcome group volunteers. Please contact the Volunteer Program Manager to express your interest in volunteering, and we'll match you up with an appropriate project. Please contact us at least a month in advance so that the details of your project can be worked out, especially for large groups, which involve more crew leaders, more coordination, more tools, and more complex logistics. However, please also be aware that we many not know specifically what work needs to be done, or when conditions will be ideal for doing it, until the snow melts out in late spring. We'll do our best to meet your needs and appreciate your flexibility! Also note that most projects have a cap on the number of people we can work with at one time, most projects can accommodate 25-30. For groups larger than that, we may have to split the group into separate projects or offer multiple dates. Finally, make sure you know how many people will be attending—it can cause problems if you commit to bringing 30 people but only 10 show up.
Can I get educational or community service credit for volunteering?
In most cases, yes. We have many projects that are suitable for students looking to fulfill service hours or build resumes. Depending on the project, some colleges may award credit for students in internships, but make sure to arrange that with both your school and your supervisor beforehand. We are happy to provide whatever proof of participation is required for volunteers to receive school credit.
Do you have many volunteer opportunities available during the winter?
No. Because most of Mount Rainier National Park is buried by snow during the winter, most volunteer opportunities are available only during the summer. Revegetation projects, for example, don't generally begin until July, though trail maintenance may begin in the lower elevations of the park as early as late April. Some programs such as curatorial or visitor center volunteers may have positions all year round and they tend to have small numbers. However, sometimes miscellaneous projects come up in the winter that may be suitable for people that live in the area and Nordic Patrol is active in the winter.
Can I suggest my own volunteer project?
The projects listed on this website are the tasks that we have identified as the highest priority to accomplish with our limited resources. However, we are open to suggestions for additional projects, especially if you have special skills or resources to contribute.
Contact the Volunteer Programs
to to have your name, skills, and interests put into our database.
Do you have options for Eagle Scout projects?
Yes—but we receive far more requests for such projects every year than we are able to accommodate. If you'd like to participate, contact the Volunteer Program Manager and ask what options might be available. Spring and summer are the most likely seasons. Be specific about what kinds of work you'd like to help with, and don't depend on Mount Rainier as your only option for finding a project.
What if I signed up for a volunteer project but need to cancel?
No problem—just let us know with as much advance notice as possible, so that we may fill your slot with someone else. When you sign up to volunteer, we're counting on you to complete a much-needed project, so it's important to let us know right away if your plans change.
What if I get injured while working as a volunteer?
Before you start working you will complete an OF-301A Service Agreement that legally enrolls you in the Mount Rainier Volunteer In Parks program and protects you under the same workers compensation as paid employees. However, you are only covered if you were working within your assigned duties as specifies in the position description. Make sure you read both documents carefully and do not perform work that is not described in those documents. When your term of service begins, you will receive training in how to perform your assigned duties safely. Safety is always our highest priority! However, but you are responsible for your own safety! As a volunteer you are required to follow all safety procedures outlined by your supervisor and use all equipment appropriately. You have the right to refuse any task you do not feel comfortable doing.

If you are nevertheless injured "on the job," notify your supervisor or project leader immediately, who will help you to arrange prompt medical care. As soon as you are able to do so, you and your supervisor will need to complete a form documenting your injury and treatment, and certifying that it took place while performing the duties spelled out on your position description.
Are there other places like Mount Rainier National Park where I can volunteer?
I'm glad you asked! Yes, Washington State has many wonderful natural areas, and their combined need for volunteers is vast. To learn about volunteering in other national park areas, visit the National Park Service Volunteer Page. Olympic and North Cascades National Parks each have their own vigorous volunteer programs. For information about volunteer opportunities with any Federal land management agency, go to Volunteer.gov. Finally, the Washington Trails Association sponsors volunteer projects in public areas throughout the state, including but not limited to Mount Rainier. In addition, many of our partner organizations facilitate a variety of volunteer projects and we encourage you to consider joining them.
I don't have time to volunteer. How else can I contribute?
Mount Rainier National Park works closely with several local non-profit organizations that support the park and its goals. Washington's National Park Fund is a non-profit organization dedicated to raising funds for projects in Mount Rainier, North Cascades, and Olympic National Parks. Learn more about the role of donations in funding volunteer activities on our donations page. The Washington Trails Association leads volunteer projects on public lands throughout the state, publishes a monthly magazine, and is also active in public policy advocacy. The Student Conservation Association and Northwest Youth Corps help with our youth volunteer and internship programs, and are actively involved in recruiting young people for work in public lands nationwide. The National Parks Conservation Association's website offers many tools for keeping informed about, and participating in, issues relating to national parks nation-wide. The Mountaineers is a local outdoor recreation group dedicated not only to enjoying Washington's wild lands but also to preserving and sharing their histories. All of these organizations have websites packed with ideas for getting involved, from building trails to writing letters, from donating money to participating in discussions about park policy. Find your own way to get involved -- and thank you for your generous support!
Last updated: July 28, 2020