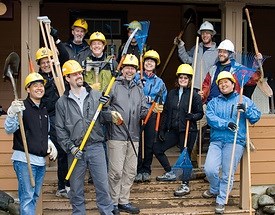 Mount Rainier has many opportunities for volunteer service for both individuals and groups, including single-day projects, full-time positions, and long-term commitments that can be adjusted to fit your schedule. Whether you're looking for a one-time experience, a residential position working alongside National Park Rangers every day, or an ongoing assignment that requires a flexible commitment of a few days per month, you'll find many opportunities to participate in the stewardship of your national park.
---
Many short-term volunteer opportunities are available! Even if you only have a day or two to contribute, we have plenty of opportunities for you to participate with us in the stewardship of your national park! Most projects occur during the summer months (between June and September), and are appropriate for either individuals and organized groups. To keep up with current projects:
Follow our Volunteer Blog or Facebook page for the latest news about our program.
Check out our volunteer project calendar.
Find the answers to Frequently Ask Questions about volunteering.
Read through our complete list of current volunteer opportunities, listed below.
Sign up for our mailing list. We send out updates roughly once a month during the summer and as opportunities arise year-round.
If you represent a group that would like to volunteer, contact us to let us know what you're interested in, when you're available, how many people are in your group, and their age range. We'll do our best to match you up with a good project.
Thanks for your interest in helping out!
---
If you're interested in
long-term or recurring volunteer opportunities
, here's a list of projects for which we're currently recruiting: