Mount Rainier Volunteer Nordic Patrol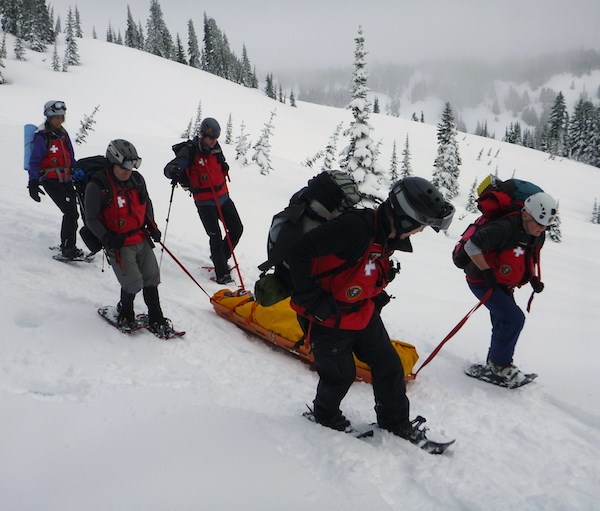 The Mount Rainier Nordic Patrol collaborates with the park staff to provide information to visitors, maintain winter trails, and assist ranger personnel with Emergency and Search and Rescue incidents.
Nordic Patrol Duties
Our volunteer nordic patrollers serve the areas of Paradise, Tatoosh Range, and Westside Road during the winter months at Mount Rainier.
The patroller is expected to project a friendly and professional image while performing a variety of functions, such as:
Contacting visitors and providing them park, weather, and safety information.
Marking and maintaining winter ski/snowshoe trails.
Preventative Search and Rescue (PSAR).
Assisting park personnel in emergency and search and rescue incidents.
Maintaining and training with SAR equipment.
Volunteer Commitment
Nordic Patrollers are required to be members of Mount Rainier's National Ski Patrol Unit #P061.
All patrollers must work at least four days/year and attend one additional day of training.
All patrollers will be required to complete the National Ski Patrol's Outdoor Emergency Care program to ensure all patrollers are at an acceptable baseline for medical skills.
Interested in joining us?
NOTE: New member applications are NOT being accepted for the 2020-2021 season due to COVID-19 considerations.
Seasonal training dates will be based on snowfall, but will be around the first/second weekend in December.
Please review the complete position description.
Provide a short bio of your winter skills (navigation, survival, avalanche, search and rescue, medical training, etc.) to both the National Park Service Patrol Supervisor and Nordic Patrol Director.
Send application information to the following email address:
Email: nordicpatroldirector@gmail.com
Last updated: June 11, 2021