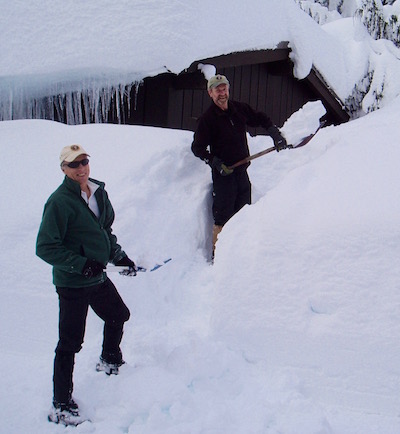 The Mount Rainier Nordic Patrol collaborates with the park staff to provide information to visitors, maintain winter trails, and assist ranger personnel with Emergency and Search and Rescue incidents.
Nordic Patrol Duties
Our volunteer nordic patrollers serve the areas of Paradise, Tatoosh Range, and Westside Road during the winter months at Mount Rainier.
The patroller is expected to project a friendly and professional image while performing a variety of functions, such as:
Contacting visitors and providing them park, weather, and safety information.
Marking and maintaining winter ski/snowshoe trails.
Preventative Search and Rescue (PSAR).
Assisting park personnel in emergency and search and rescue incidents.
Maintaining and training with SAR equipment.
Volunteer Commitment
All patrollers must work at least four days/year and attend one additional day of training.
All patrol leads must work at least two weekends and attend two additional days of training.
All patrollers will be required to have at least a current First Aid card and CPR certificate. Certification is not required at the time of application, but must be completed before the first day of training.
Interested in Joining Us?
Seasonal training dates will be based on snowfall, but will be around the first weekend in December.
Please review the complete position description.
Complete the volunteer agreement, along with providing a short bio of your winter skills (navigation, survival, avalanche, search and rescue, etc.) and send to one of the addresses below.
Send application packet by mail OR email:
Mail: Jeffrey Gardner
Nordic Patrol Supervisor
Mount Rainier Wilderness District
55210 238th Avenue E
Ashford, WA 98304
Email: jeffrey_gardner@nps.gov
Questions? Send us an email.