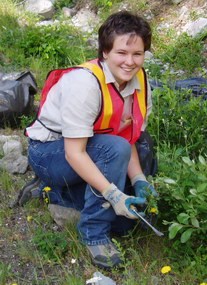 Every year, hundreds of individuals contribute their enthusiasm and skills to help the National Park Service preserve and protect its natural and cultural resources, and to serve and educate its visitors. Volunteers help in almost every area of the park, from maintaining trails to leading guided hikes. The time commitment for volunteer work varies from one-day projects to recurring projects or full-time work extending over months or years. Both individuals and organized groups are welcome to volunteer, and opportunities are available both for highly skilled professionals and for families with little or no experience in land management.

Consider joining our team! Your contribution of time and energy will help us to protect the magnificent natural and cultural areas entrusted to us, and you'll go home with a sense of pride at having participated in something worthwhile. Mount Rainier is your national park!Would you like to join a long-term project, working either full-time or intermittently as your schedule allows? Check out the listings on our Long-Term Volunteer Projects page.

Looking for an internship through the Student Conservation Association, the Geologic Society of America, or your college that provides a stipend, housing, and possibly educational credit? Take a look at our list of current Internship Opportunities.

Just want to help out for a day, a weekend, or a week in the middle of your busy schedule? We have many short-term opportunities listed in our volunteer blog. Browse through the recent news, calendar, or volunteer opportunity listings to find a project that meets your interests, skills, and schedule!

Still have questions? Download our Volunteering at Mount Rainier brochure; browse our Frequently Asked Questions page; view pictures, videos, and PowerPoint presentations of volunteers in action in our Photo Album; check out the latest news in our Blog; follow our Facebook page; or contact the park's Volunteer Program Manager by e-mail or by telephone at 360-569-6567.