News Release
Mammoth Cave National Park to Host Cave Sing on December 4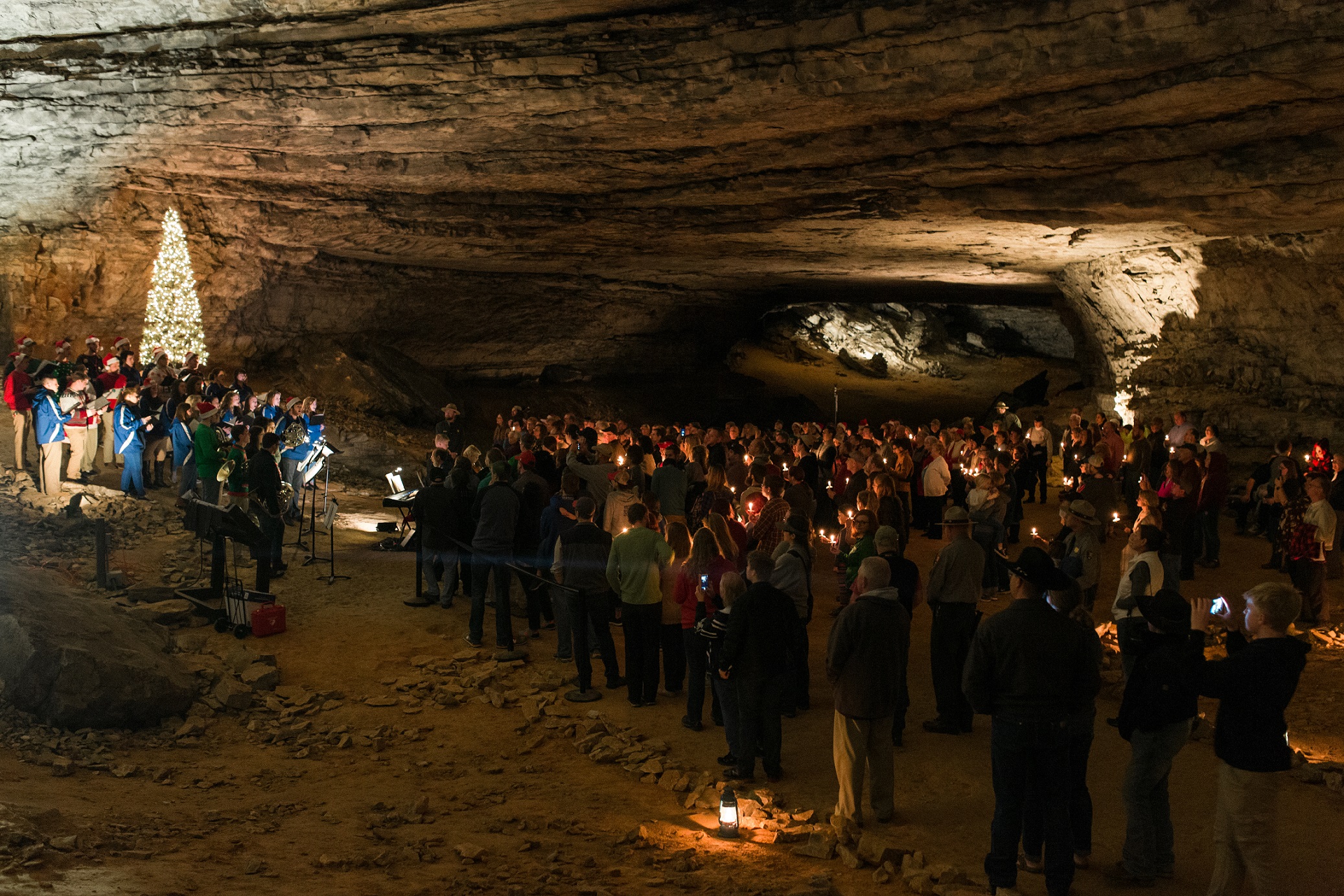 News Release Date:
November 8, 2022
Contact: Molly Schroer, 270-758-2192
Mammoth Cave National Park will host the 43rd annual Cave Sing celebration on Sunday, December 4, 2022. The free holiday event will feature live musical performances by the Lindsey Wilson College Singers, Mammoth Cave guide Hillary Sward, and the Band Table Singers. 
"We are excited to once again offer the Cave Sing as an in-person experience at Mammoth Cave," said Superintendent Barclay Trimble. "We have held virtual Cave Sing events over the last two years, but there is nothing like listening to live music echoing through the halls of Mammoth Cave to kick off your holiday season. Each year we look forward to sharing the tradition of music with our local community and park visitors from far and wide."
The Cave Sing celebrates a tradition of holiday music inside Mammoth Cave that began in 1883 when local residents held a Christmas celebration. The party brought laughter, music, and a ten-foot-tall pine tree decorated with popcorn and ribbons into the cave. Since the modern Cave Sing celebration began in 1980, the park has welcomed various artists representing a wide variety of musical genres. 
The 2022 performance will feature the Lindsey Wilson College Singers from Columbia, KY who are returning for their 5th appearance at Cave Sing. The singers, led by Dr. Gerald L. Chafin, are a performing arts ensemble who have toured extensively in over forty states and seven countries. The mixed choir performs repertoire from all eras, specializing in sacred a capella anthem literature. 
The Cave Sing audience will also be treated to the trumpet music of Mammoth Cave's very own cave guide, Hillary Sward. Sward holds degrees in Music Education and Performance and has taught kindergarten through twelfth grade before she joined the park's guide force in 2022. She has played for both national and international audiences including performances at the Macy's Thanksgiving Day Parade, the Inauguration Parade for President Obama, and tours through Europe and China. 
Cave Sing participants will meet behind the park visitor center and depart for the Historic Entrance at 2 p.m. CST. Participants must walk approximately 0.75 miles (1.2 km), round trip, to reach the performance area. The access trail includes a steep outdoor hillside to and from the cave's natural entrance with a total of 130 stairs. 
Participants will then travel along broad walkways inside the cave through some of the largest passageways.  The trail is mostly level, but some hilly and uneven areas exist. The performance area is in a natural environment, with low lighting and a temperature of around 54ºF (12ºC). Even though the cave air stays near a constant 54 degrees Fahrenheit, wind chills near the entrance may be much cooler. There are no seating options, and the performance time is estimated at around 45 minutes to 1 hour.   
Prior to the Cave Sing event, the Band Table Singers from Glasgow, KY will be on hand to entertain guests as they gather at the park's visitor center at 1:30 p.m. The local group began by singing catchy songs at their high school breakfast table for friends, but then slowly began to shift towards the gospel music genre. They have been performing publicly for over ten years. 
Light refreshments provided by The Lodge at Mammoth Cave will be served at the visitor center immediately after the performance where there will also be a visit from Santa Claus. 
Visit our website for more information about
Cave Sing
and other
Special Park Events
at Mammoth Cave National Park.  
Last updated: November 8, 2022