Her Side of Our Story: A Woman's History of Mammoth Cave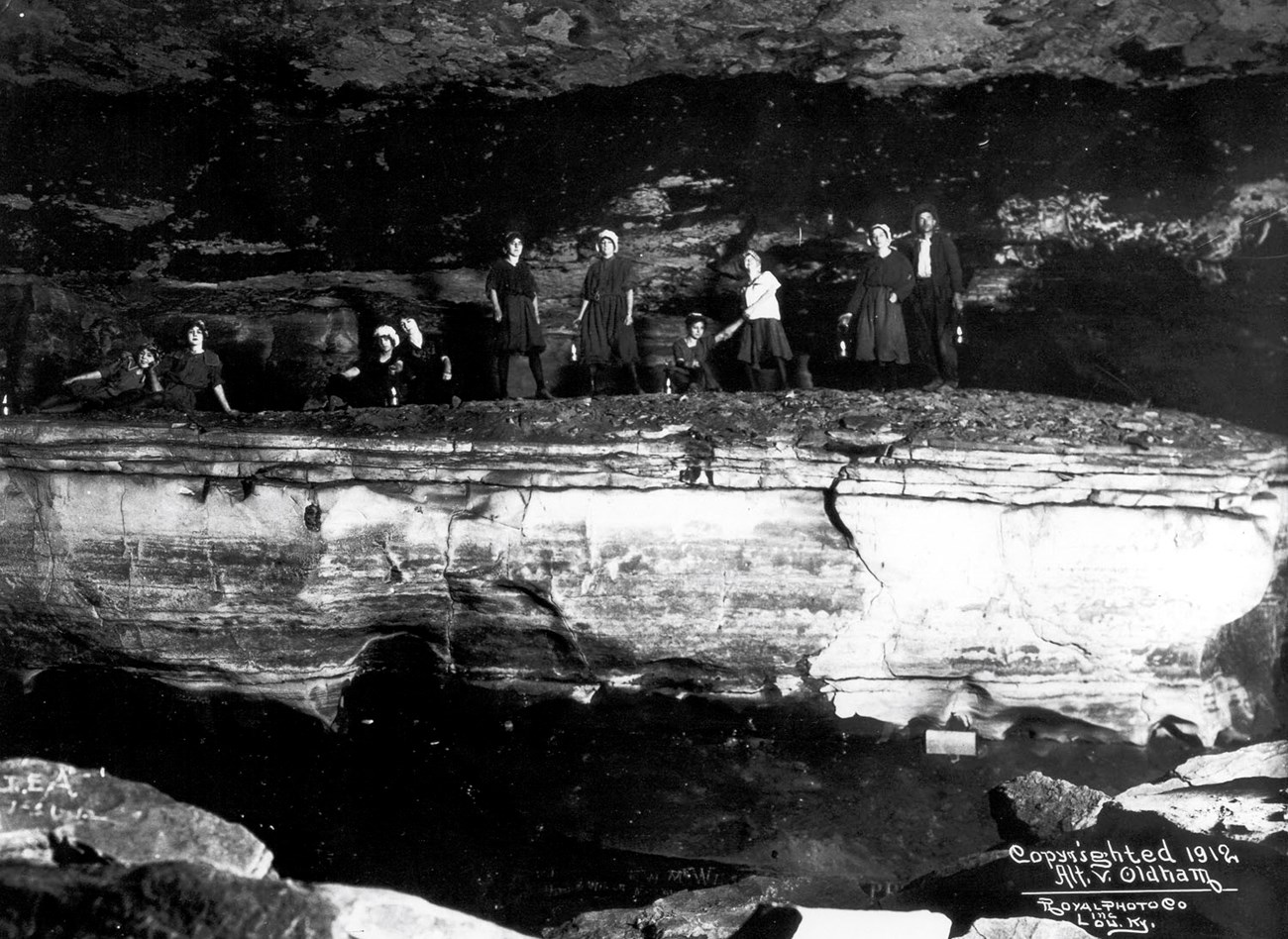 Mother, wife, sister, daughter, aunt… These are the most common names describing women in the narratives of history. All titles with immeasurable significance and impact, but what names did they inscribe on other parts of their stories?

Threads of their identities can sometimes be pulled from the fabric of the past—letters, publications, or even artifacts. It is then we realize that stories of women were hidden not only in the shadows of society, but were obscured in the periphery of hindsight. The marks that women left on Mammoth Cave's history are as obvious as the writing on the walls. We just have to shift our focus and look beneath the surface.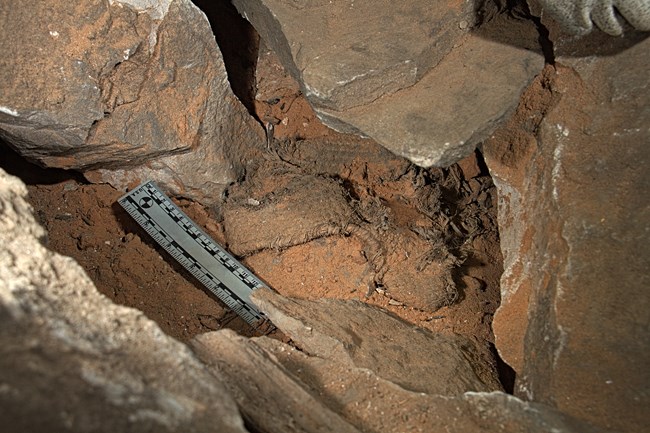 Before History, Her-story
The story of women's role at Mammoth Cave dates back to prehistoric times when early Native Americans began venturing into the cave systems found in the area. The little that we know of these people comes from the archaeological evidence left behind and preserved in the caves for thousands of years.

Recent archeological studies have tested ancient human feces, or paleofeces, samples found within the cave. These samples identify hormone levels associated with men. This evidence, however, is not conclusive. It cannot tell us much about what different activities men and women were performing while actively exploring the cave, or even if one gender explored the cave more than the other. Could it be possible that cave exploration was a community activity?

Park archeologists believe that prehistoric women were the innovators and authors of plant domestication and developing technologies for improved methods of plant tending that would eventually lead to plant cultivation and full-on agriculture. Artifacts found in the cave such as woven rattlesnake master fibers and grass twine, cane reed and false foxglove torches, gourd fragments, and even sticks that were often used as digging tools, reinforce this belief. These were all materials and technologies that women would have worked with directly and with such regularity, that it leads archeologists to believe that women were directly experimenting with these resources and finding the best examples of the plants to collect and propagate.
Respected Members of Society
In 1812 the remains of a Native American woman were found in the entrance of Short Cave after having been preserved in the cave environment for over 1000 years. The burial site of the ancient woman was described in a letter by Charles Wilkins, owner of Mammoth Cave during the early 1800's. He wrote,
"… found at a depth of 10 feet from the surface of the cave in a sitting posture, encased in broadstones, standing on their edges, with a flat stone covering the hole. It was enveloped in coarse clothes, wrapped in deer skins, enclosed in the stone coffin where the working utensils, beads, feathers, and other ornaments of dress, which belonged to her."
While there is little known about the origins or passing of the woman, it is thought that she was likely an older, respected member of her society.

Many Native American tribes, especially in the southeast of the United States, have matrilineal societies — kinship determined by the female line of descent. Moreover, it means that women are included in decision-making processes for the greater good of the tribe. Some Native American tribes associated with the national park today, such as the Cherokee, Chickasaw, and Choctaw, follow matrilineal lines.
The Courage to Enter
For many events in history women were often involved but seldom mentioned. For Mammoth Cave's history, reminders of these women are recorded in their professional achievements, published accounts, or literally written on the walls.

Leading the Way
The Gatewood family was one of the first owners of Mammoth Cave, several members of this family guided tours during the 1820s and 1830s. The name "George Slaughter Gatewood" can be seen over a dozen times throughout Gothic Avenue, an indication of the many trips he made into the area while guiding tours. Nearby his name, though, his mother's name, "Elizabeth Gatewood" can also be viewed in the very same passage. While societal conventions of the time may have prevented Elizabeth from being called a "cave guide", accounts refer to her familiarity within the twisting passages of Mammoth Cave.

Within a decade after Elizabeth's time at the cave, a new era in cave guides began with the arrival of several young enslaved Black guides. Signatures and accounts from the mid 19th century indicate that the wives of these guides sometimes accompanied their husbands on tours and perhaps explorations. Charlotte Bishop was one of these women. Her name can be seen on cave walls alongside her husband, Stephen Bishop. Their signatures are often found miles from a cave entrance and even in passages where she would have had to crawl lying flat on the ground. A visitor's account from 1855 recalls that on their tour with enslaved guide Alfred:
"our suite was completed by his wife Helena, a brown woman, cheerful, neat and rather good looking."
While any first-hand accounts from Charlotte or Helena have been lost to time, their signatures and names remain as a testament to their intrepid spirits.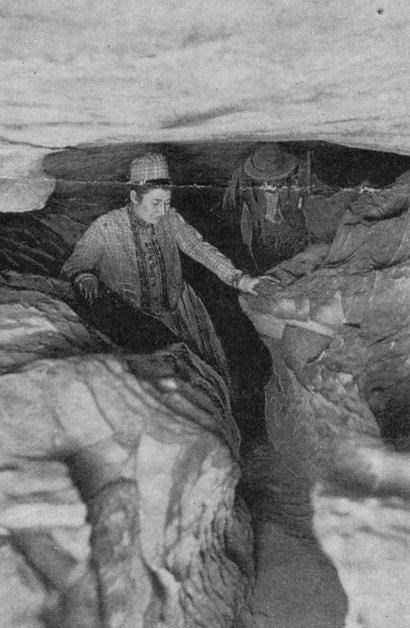 Visitors
Today, the primary way people experience Mammoth Cave is as a visitor on a tour rather than working as a cave guide. In the early 1800s, most visitors to the cave were wealthy, and their visit was not a day trip but rather a multi-week journey. Once visitors reached their destination, they would commonly take multiple cave tours lasting as long as 10-16 hours for one single trip. These long cave tours often involved walking over loose and shifting rocks, and occasionally crawling and climbing through treacherous passages, there are many accounts from these early tours. In one such 1837 account, a Miss Harriet Martineau wrote:
"The guides [two brothers] reported that ladies hold on in the cave better than gentlemen. One of the party supposed this was because they were lighter; but the guide believed it was owing to their having more curiosity…"
Writing a record of a visit was also not uncommon. Many 1800s accounts were published in newspapers, magazines, or stand-alone books. One such book was written by Lady Emmeline Stuart-Wortley who visited in 1849 with her then-twelve-year-old daughter, Victoria Welby. In her account, Emmeline wrote about her journey including the silence found within the underground passages:
"Ours being almost entirely a female party, it will readily be imagined, we did little to disturb the stillness of the place! One English and one American gentleman, however, were also there; and I can not [sic] answer equally for them…"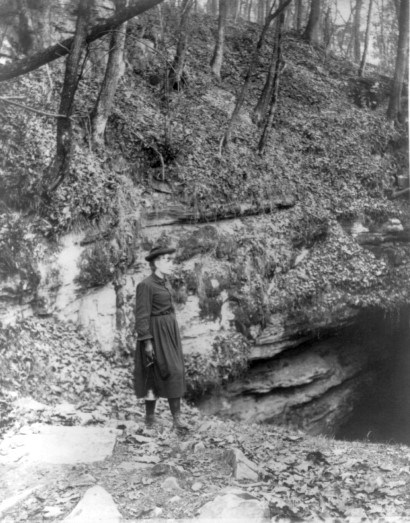 Professionals
Many people have sought fame or fortune in the Mammoth Cave area. Entrepreneurs such as George Morrison and Lucy Cox found success operating competing cave tours during the Kentucky Cave Wars era. Others briefly visited Mammoth Cave but still left a lasting impression.

Jenny Lind, a world-renowned singer in the 1800s, visited in the 1850s while on a North American Tour with P.T. Barnum. While her name was not left on the cave itself, several features and formations were named in honor of her visit.

In the late 1800s, photographer Frances Benjamin Johnston visited Mammoth Cave and became the first woman to publish a series of photos of the cave. This feat of photography was noteworthy especially during a time before electric lighting or battery-operated flashlights.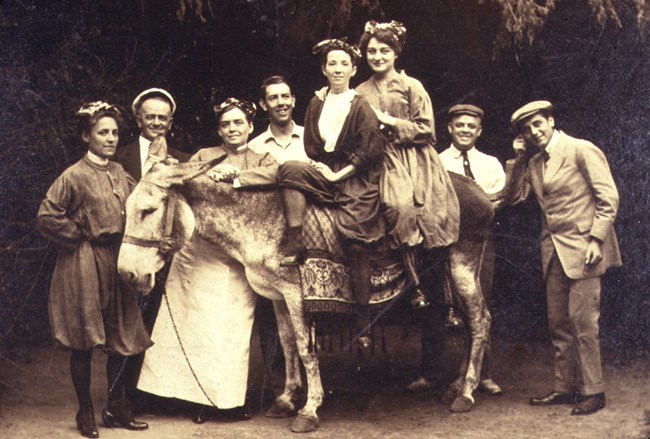 Dressed for the Occasion
Ranger lore tells of visitors to the cave being dressed to the nines, but depending upon the time period, to wear less than 2 or 3 layers of undergarments or petticoats would have been out of the question for the mostly upper-class visitors.

In the early 1800s, with the start of cave tourism, men might enter the cave in their three-piece suit and slick sole leather boots. But the women were not to be outdone, many would wear a nice dress with a corset and don leather lace-up heeled boots. Evidence of this can be seen in historic photographs of tour groups and by the clothing items that were left behind. Leather heels or soles of shoes that were broken off, and even a corset that was removed and discarded at the side of the trail are found as artifacts in the cave today.

Many believe that these first tourists were overdressed for their adventure, but that didn't hold the women back. In 1837, Harriet Martineau described her journey into Mammoth Cave in her book, Society in America.
"The ladies tied handkerchiefs over their heads, and tucked up their gowns for the scramble over the loose limestone; looking thereby very picturesque, and not totally unlike the witches in Macbeth…"
Over time, as fashion trends changed and visitation grew, and many cave visitors started utilizing what is described as a 'cave costume' making them better equipped for cave exploration. These cave costumes were provided for a fee at the Mammoth Cave Hotel, the women's costume included "bloomers", a style closer to pants, in the mid-1800s bloomers were controversial in many circles. For many upper-class women this may have been the first time they wore bloomers, and the first time many men would have seen women in anything other than long constricting skirts.
"The ladies were all dressed in bloomer costume, Miss Lizzie Helm and Miss Sallie Hardin in yellow flannel, tastefully trimmed with black velvet, the upper garments gracefully confined around the waist by a sash, and wearing light blue turbans with black plumes upon the head. The costume was really pretty, and Turkish in appearance. The Misses Rogers were dressed in Scottish plaid made after the same fashion." — Charles C. Jones Jr., 1854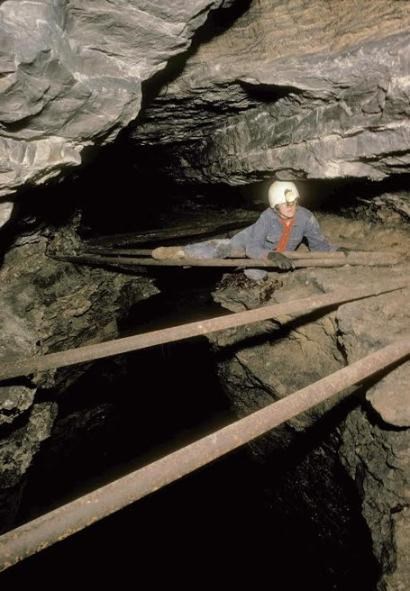 A Lasting Legacy
The contributions of women at Mammoth Cave continue to make lasting impressions on the national park and the countless visitors who travel the cave passageways today.
Exploration
Measured at over 400 miles, Mammoth Cave is the longest cave system in the world. Mapping the cave and reaching that monumental length has only been possible due to the contribution of the many female cave explorers who have walked, crawled, and climbed through the maze-like passageways beneath our feet. Women like Pat Crowther, stand out among the rest.

Pat was a member of the famed "gang of six" who, in 1972, found the long sought-after connection between the Mammoth Cave system and the Flint Ridge cave system. This one connection earned Mammoth Cave the title of world's longest cave.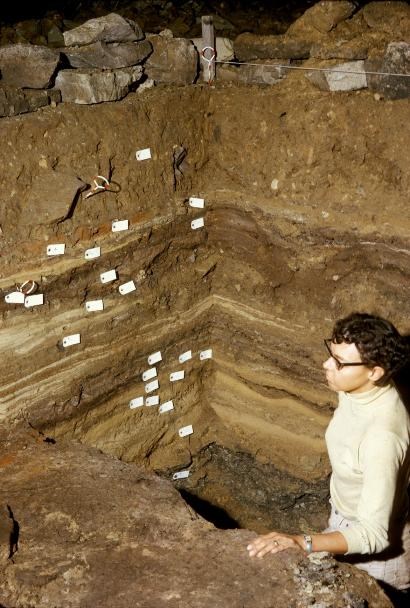 Archeology
As a world-renowned archeologist, Dr. Patty Jo Watson literally wrote the book on archeology of Mammoth Cave. The palaeobotanical research she conducted in Salts Cave, Kentucky forever changed the way we defined agriculture in Eastern North America and set a standard for future research in the New and Old Worlds.
National Park Service
The first woman who was officially employed as a cave guide at Mammoth Cave National Park was Barbara Catlin in 1965. Catlin was not only the first woman with that job title, but she was also the first African American woman to be hired by the park. Catlin worked for a summer as a part of an equal opportunity program sponsored by the federal government. While Catlin was allowed to guide tours during her brief stint at Mammoth Cave, guiding was not considered a profession suitable for women.

In 1966, when a permanent cave guide position became open, Rachel Wilson set out to apply. Wilson had already worked at the park for nine years as a park guide who provided information to the public in the visitor center. Wilson had her application in hand and was on her way to the personnel office when a supervisor told her not to bother applying because it was not a "woman's job", and they did not want a woman guiding cave tours. A year later, when another cave guide position became available, Rachel Wilson applied and was hired as the park's first female cave guide in a permanent position. Wilson had not been scheduled to guide a tour for the first two months after accepting the position when Superintendent, John Aubuchon, inquired to her supervisors as to why she hadn't been guiding during that time. Aubuchon subsequently informed the person responsible for scheduling that Wilson would guide the first tour the very next morning. Even without any training, Wilson proved herself on that first tour and successfully began her guiding career. Her pioneering efforts led to four more women being hired as cave guides within the next two years.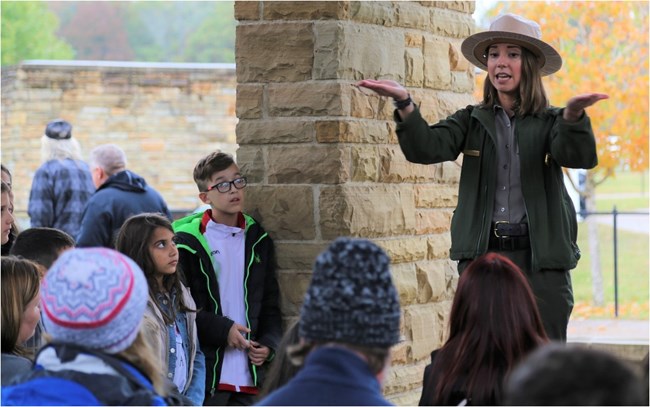 Although Barbara Catlin and Rachel Wilson may not have intended to blaze a trail for future women guides at Mammoth Cave, that was certainly the result of their actions. While women serve as leaders in all aspects of park operations, and in many programs and disciplines at Mammoth Cave, there is still room for improvement. In 2020, women made up 50.04% of the US labor force but only around 38% of the workforce of the National Park Service.

Learn more about Women of the National Park Service.
Learn More About Their Lives
Last updated: July 24, 2022