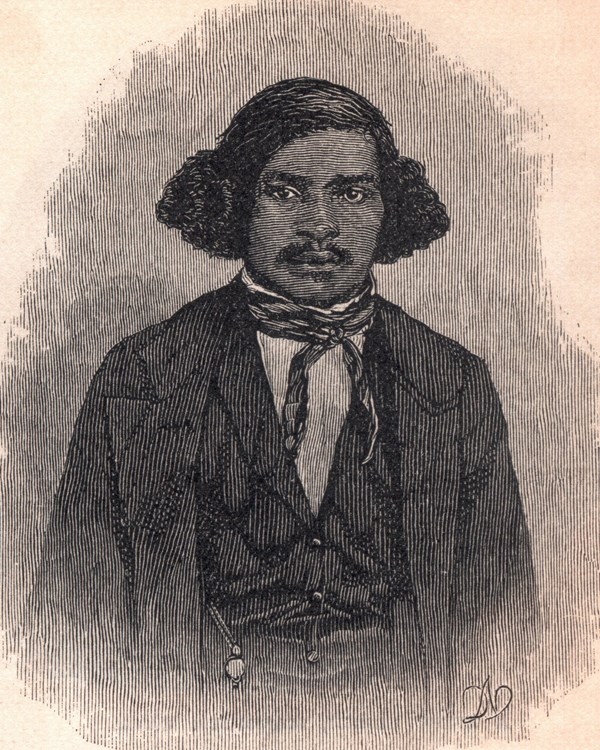 Significance:
Popular guide and explorer of Mammoth Cave
Place of Death:
Mammoth Cave, Kentucky
Place of Burial:
Mammoth Cave, KY
Cemetery Name:
Old Guide's Cemetery
When Stephen Bishop, an enslaved African American man, arrived at Mammoth Cave in 1838, the cave was a fledgling attraction for tourists, academics, and the curious. When the property was purchased by Franklin Gorin, Bishop was placed at the cave as a guide. But in addition to his duties guiding visitors along the known tourist routes, Bishop also joined in the exploration of new passageways within the cave. 
Bishop started guiding as a teenager, and absorbed information and stories from those whom he would guide inside the cave. Gorin would later recount that Bishop was: 
"a self-educated man ... He had a fine genius, a great fund of wit and humor, some little knowledge of Latin and Greek, and much knowledge of geology, but his great talent was his knowledge of man…His talents were of the first order. He was trustworthy and reliable; he was companionable; he was a hero and he could be a clown. He knew a gentleman or a lady as if by instinct. He learned whatever he wished to learn without trouble or labor, and professors of geology spoke highly of his knowledge in that department of science." 
When the cave property was purchased by Dr. John Croghan in 1839, Bishop was among the guides that were retained to continue tour operations.  
In the years that followed, Bishop was present for many new discoveries that were made at Mammoth Cave. After he and a visitor successfully crossed an obstacle called the Bottomless Pit, many miles of the cave's labyrinth became open to further exploration. Popular cave areas such as the Mammoth Dome and the Ruins of Karnak are credited as having been discovered by Bishop. 
In 1842, during a visit to the Croghan estate, Locust Grove, in Louisville, Kentucky, Bishop drew a map from memory of the explored passageways of the cave. The map, which was credited to him, was published in the book Rambles in the Mammoth Cave During the Year 1844, by a Visitor.   
Bishop's knowledge and power of memory was recognized by one visitor who stated,  
"His vocation has brought him into contact with many intellectual and scientific men and as he has great quickness of perception and a prodigious memory, he has profited much by intercourse with superior minds. He can recollect everybody that ever visited the cave, and all the terms of geology and mineralogy are at his tongue's end." 
Bishop was a popular guide and was often requested by tourists who had made the long trek to Mammoth Cave from all over the country. One visitor noted of his notoriety by stating,
"Stephen, who has a share in all the principal explorations and discoveries, is almost as widely known as the Cave itself." 
Bishop and his wife Charlotte had one son, Thomas, who was born in 1843. He eventually gained his freedom and began working at Mammoth Cave as a paid guide, and in 1856, the Bishop family moved to a 75-acre tract of land near the cave property. By the end of the summer of 1857, though, Stephen Bishop had died from unknown causes.   

Bishop was buried in an unmarked grave in a small cemetery that Dr. Croghan had established for some of his deceased consumptive patients. Decades later, James R. Mellon, a visitor from Pittsburgh, provided Bishop with a gravestone that can still be seen in the The Old Guide's Cemetery—named in honor of many influential and adventurous cave guides who lived at Mammoth Cave. Visitors can reach the cemetery just off of the Heritage Trail near the park's visitor center. 
Stephen Bishop's legacy continues at Mammoth Cave through the places that he helped discover, the early adventures in which he was a part, and in his role of helping to expand the knowledge and the reputation of Mammoth Cave. The stories of his life and discoveries are shared with hundreds of thousands of visitors who retrace Bishops footsteps each year inside Mammoth Cave. 
Last updated: March 25, 2021