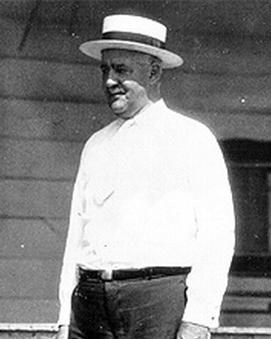 Significance:
Cave owner and competitor involved in the Kentucky Cave Wars era of Mammoth Cave ownership and exploration whose discoveries led to the eventual establishment of Mammoth Cave National Park.
Place of Birth:
Border of Ohio and Pennsylvania
Date of Birth:
July 29, 1866
Place of Death:
Owensboro, Kentucky
Date of Death:
August 11, 1937
Place of Burial:
Cave Hill Cemetery, Louisville, Kentucky
"And what can equal in wonder and surprise the marvelous halls; the beautiful avenues; magnificent chambers; lofty domes and wonderful grottos, overhung with dazzling splendor, and all shrouded in eternal gloom?" - George Morrison, The New Entrance to Mammoth Cave
George D. Morrison came to South Central Kentucky in effort to find oil in 1915, and while his attempts at oil continued to fail, he changed the course of Mammoth Cave history forever.
Soon after arriving in the Mammoth Cave area, Morrison became interested in the caverns below and the money that could be made in the cave tourism business. He began by breaking into Mammoth Cave with a small crew of men with the intention of getting a better understanding of the layout of cave passages and to uncover if those passages went beyond what was being shown to the public. Morrison was eventually caught trespassing and was forbidden to enter Mammoth Cave again.
Since Morrison couldn't enter Mammoth Cave through the natural Historic Entrance, he would have to be more creative in his exploration tactics. He developed relationships with local landowners and was eventually granted permission to blast into a natural sinkhole depression on  land owned by Perry Cox. The passages below the blast area revealed the signatures of cave explorers Ed Bishop and Max Kemper, who could have only reached this area from the historic section of Mammoth Cave. Morrison had found a connection! However, the L&N Railroad owned the cavern rights to this tract of land and Morrison was never able to publicly use or make a profit off this first discovery. 
It wasn't until 1921 that Morrison returned to the Mammoth Cave area with a new approach at finding his own part of Mammoth Cave. This time he bought around 2,000 acres of land and blasted into a sinkhole on his own property to uncover cave passages below. After about two weeks of exploration into this opening, Morrison's crew found another important signature of a guide who could have only gotten to this section of cave from the Historic Entrance to Mammoth Cave. This meant Morrison had discovered a section of Mammoth Cave that was owned completely by him! By the spring of 1922, he opened his cave up to the public and advertised it as the New Entrance to Mammoth Cave. 
Morrison's early tours featured miles of large cave passages, domes, and gypsum formations. However, to truly compete with the historic section of Mammoth Cave, he needed to discover something that they didn't have. Luck came to Morrison on March 14th, 1923 upon the discovery of thousands of formations in his section of cave – an area later referred to as the Frozen Niagara due to the grandiose flowstone formation that appeared as Niagara Falls does when the water freezes in winter. Because of his discovery, Morrison was able to dominate the tourism business in the Mammoth Cave area and draw attention – and profit – his way. 
Morrison's success would be short lived, however. After just a couple years of operating his business, the Mammoth Cave Development Company, tragedy strikes South Central Kentucky. Young caver Floyd Collins becomes trapped in nearby Sand Cave and after over two weeks of rescue attempts, perishes in the passage that held him. This tragedy pushed the Mammoth Cave National Park Association to seek approval in March of 1926 from Congress to create a national park in the Mammoth Cave area.  
After prolonging the sale of his property for six more years, Morrison eventually sells his section of Mammoth Cave on January 5th, 1932 for $290,000. Morrison would take his own life in 1937, long before the eventual designation of Mammoth Cave into the National Park Service on July 1st, 1941.
Last updated: March 26, 2021