African American History
From the beginning of the Mammoth Cave's re-discovery by modern man, African Americans played a vital role in every era of it's rich history. Their work and contributions helped to shape the cave to what we experience today.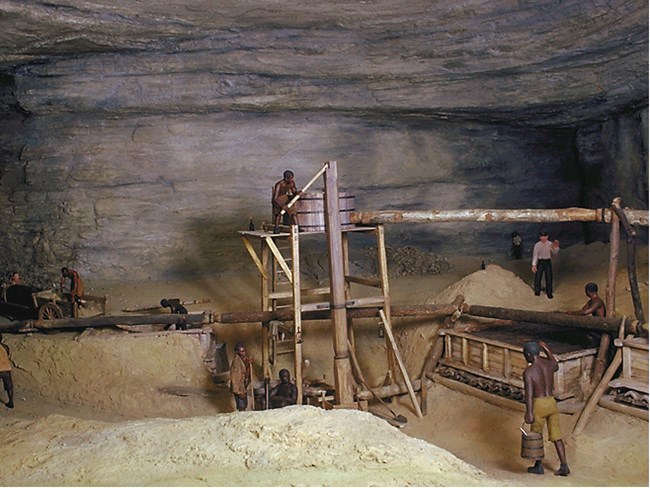 Saltpeter Mining
Starting in the 18th century, enslaved African Americans worked to produce saltpeter in the depths of the cave. Saltpeter was a main ingredient in the production of black gunpowder, which proved to be vital during the War of 1812. The working conditions at the mining operation were poor. Workers were in the cave for long hours sometimes entering before sunrise and leaving after dark. Smoke from oil lanterns and fires filled the cave making it difficult to breathe, and see. They also worked in ever present cold and darkness that consistently surrounded them. These men were working towards the goal of preserving American independence and freedom — a freedom that they themselves did not enjoy.
Pre-Civil War Tourism and Exploration
After the war ended, Mammoth Cave transitioned from a saltpeter production facility into a world-renowned tourist destination that African Americans also helped to create. Enslaved men and women worked in the Historic Mammoth Cave Hotel to clean rooms, change linens, and prepare meals.

In the cave, some of the early guides were young enslaved men such as Stephen Bishop, Mat Bransford, Nick Bransford, and Alfred Croghan. These men, along with many others, discovered and helped develop cave tour routes that enhanced the visitor experience throughout the 19th and early 20th centuries.

Each enslaved guide eventually saw his freedom, but their life was fraught with hardship in a time where the country was divided on their place in society. During their life they may have never realized the importance of their existence. However, today they are not viewed as slaves or lower class citizens but as legends. Their stories and discoveries continue to live on within the avenues of Mammoth Cave and in the words you will hear on our cave tours of today.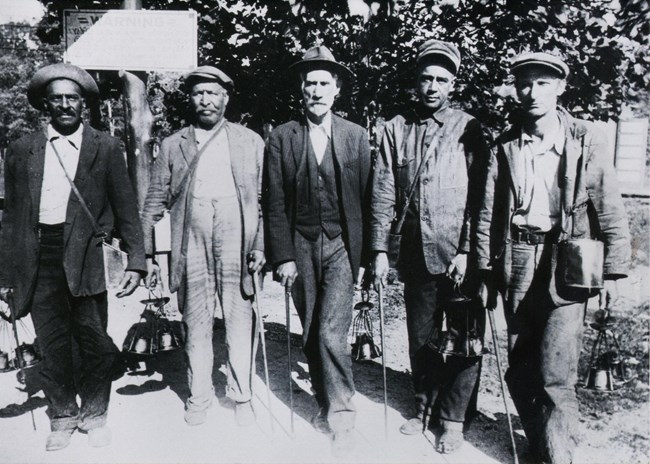 Generations of Guides
While the original enslaved guides in 1838 were, Stephen, Mat, Nick, and Alfred, many black guides would follow in their footsteps over the course of the next century. After the Civil War, Mat's son - Henry, also became a cave guide, as well as Mat's nephew, Will Bransford. Will served as the lead guide to both black and white guides during the early 1900s and represented Mammoth Cave at the 1893 World's Fair in Chicago.

Mat's grandsons, Louis and Matt Bransford, worked as guides into the 1930s. Matt retired from guiding tours in 1937 and Louis in 1939.

The National Park Service officially assumed operations of Mammoth Cave in 1941. When the guide staff was assembled none of the black guides were asked to stay on as cave guides, including the 4th generation Bransfords Clifton, Arthur, Eddie, Elzie, and George. This ended a century of both black and white cave guides working alongside each other and the legacy of Bransfords guiding at Mammoth Cave.
It wasn't until 2004 that the Bransford family once again officially returned to the cave. Jerry Bransford, Mat's great-great-grandson, began working as a cave guide for the National Park Service at Mammoth Cave, continuing the family tradition. Jerry often shares stories of his ancestors experiences as enslaved and free guides with his tour groups in the very places those stories were made. Jerry has said "[I] owed myself and my ancestors my assignment at Mammoth Cave as a tour guide. I wanted to bring the Bransfords back."
Visit our keyboard shortcuts docs for details
Duration:

5 minutes, 41 seconds
You might say Jerry Bransford has a unique connection to the land he grew up on. Not only does he hold a special place for the woods and waters, towns and people of Kentucky's cave country, but he's also spent a lifetime exploring its depths underground at Mammoth Cave National Park – just as his enslaved relatives did generations before him.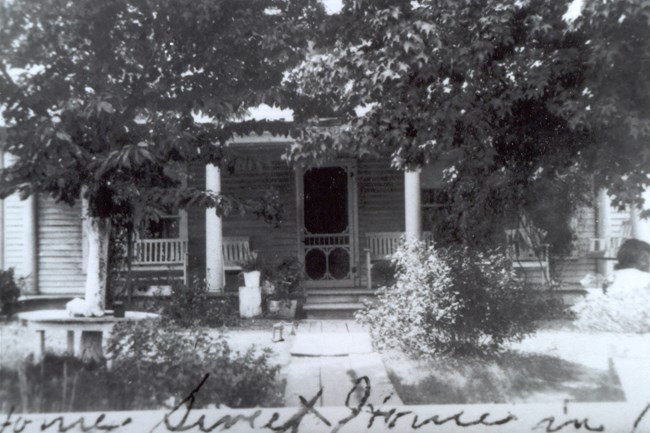 Serving the Underserved
Tourism has occurred throughout the history of Mammoth Cave, but it wasn't until after emancipation and the end of the Civil War that many businesses started to realize the potential of marketing to African Americans. This meant marketing products, services, and also vacation destinations for places such as Mammoth Cave.

When visiting Mammoth Cave in the early 1900s, European Americans had several options of hotels nearby, but black travelers were limited in places they could stay on their vacations due to segregation laws. One such place that provided food and lodging was the Bransford Summer Resort: a two-story, 14-room hotel for African Americans, owned by Cave Guide Matt (Mat's grandson) and his wife Zemmie Bransford. The Bransford Summer Resort flourished in the community during the early 1900s. It was the first location in Mammoth Cave history where the African American community could experience the same comforts and fascination of the cave white visitors had experienced for over a century. The resort was eventually sold in 1934 to make way for the establishment of Mammoth Cave National Park.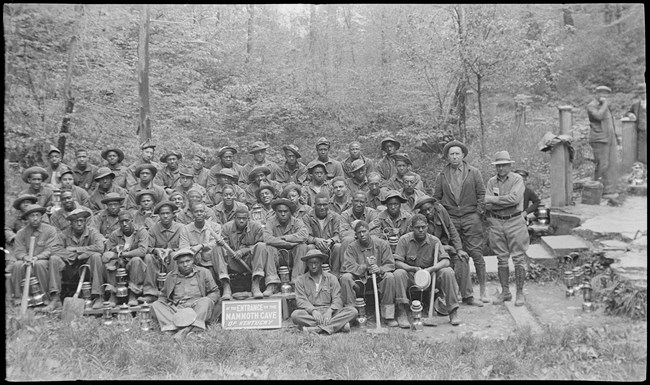 Civilian Conservation Corps
From 1933 to 1942, more than 2,500,000 men across the country were enrolled in the Civilian Conservation Corps (CCC), a program designed to put jobless young men to work on public land projects during the Great Depression. One of the largest CCC projects in the state of Kentucky was the development of the national park at Mammoth Cave. Mammoth Cave hosted four CCC camps including, Company 510 or "Camp #1" which was made up solely of African American men and included former tour guides Arthur and Clifton Bransford.

All of the CCC crews at Mammoth Cave completed work projects that helped to form the groundwork for the national park to begin to welcome visitors. Hundreds of thousands of trees were planted, and miles of roads and trails were built. Camp #1 performed a great deal of work within the cave itself. They worked to develop and improve the tourist trail routes which are still utilized today.

In 1942, all CCC camps including Camp #1, were disbanded when Congress diverted funds to the effort to win World War II.
Last updated: January 26, 2022