Hiking Trails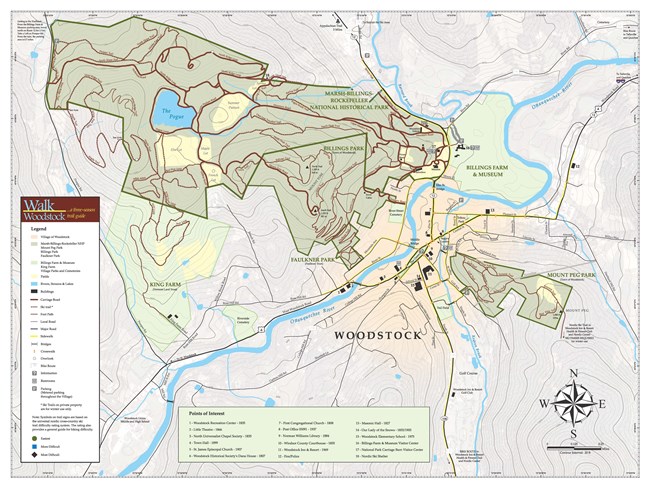 The park has over 20 miles of trails available for visitors to explore. The trails crisscross the property through peaceful forests, spectacular overlooks, historic scenery, and right into downtown Woodstock. The trails can be accessed from the National Park entrance on VT-12 (parking at the Billings Farm & Museum), the National Park parking lot on Prosper Road, the Faulkner Park (Faulkner Trust), or King Farm (Vermont Land Trust).

No bicycles or motorized vehicles are allowed and dogs need to be kept on a leash. Please pick up after your pet and pack out waste. Trash receptacles are available in the Billings Farm & Museum parking lot. Swimming and fishing in the Pogue is not permitted.
The following information applies to spring, summer, and fall. For information about exploring the park in the winter during the snow season, see Winter Trail Usage.
Get Your Map
Download a map of park hiking trails.
Cell service is limited in the park. We recommend that you print or download a copy of the map to your phone prior to starting your hike. Printed maps are available at the Carriage Barn Visitor Center 10:00am-5:00pm, Memorial Day Weekend-October 31.

The park's map is geo-enabled. You can use the map in smartphone apps like Avenza Maps to follow your location on the map while you are on the trails. Learn how through these quick instruction guides for your iPhone or Android device.

Plan Your Hike
Trail difficulty ranges from flat, smooth terrain, to steep rocky, terrain, offering a wide range of options for hiking interests and abilities. Below are some suggested walks and hikes:
(Download List of Hikes.) A description of many of the park's trails with length and difficulty can be found here: List of Trails.
Hiking Safety
Bring plenty of water.
Wear comfortable shoes with adequate support.
Park at designated trailheads and lock your car.
Pack out whatever you pack in.
Keep your dog on a leash at all times.
Choose a route that is within your ability, stay on the trails, and take the trail map with you.
Let someone know your plans and stick to them.
Take your cell phone in case of emergency (note that service is often lost in the western sections of the park).
Hikers should yield to horses. Slowly and calmly step off to the downhill side of a trail. If you approach from behind, calmly announce your presence and intentions. Horses and other pack stock can frighten easily, so avoid sudden movements or loud noises.
Dial 911 in an emergency.
Follow park safety regulations.
Check the weather before your hike, dress accordingly, and change plans if necessary.
More Local Hikes
Walk Woodstock
Woodstock, VT is a walker's paradise. Woodstock has an extensive network of over 30 miles of trails that connects the National Park to other public lands and the village of Woodstock. The trails can take you from the historic center of Woodstock, across meadows and woodlands, through the National Park and up to scenic vistas overlooking valleys, villages, and rural countryside.
In 2004, a coalition of local, state and federal organizations and agencies came together to enhance the awareness, preservation and ultimately use of the network of trails in Woodstock. One of the outcomes of the partnership is a
unified Walk Woodstock map
that includes the National Park carriage roads and trails as well trails managed by the Billings Park Commission (
Town of Woodstock
) and Faulkner Trust on Mount Tom and Mount Peg, and the Vermont Land Trust trails at the King Farm.
Appalachian National Scenic Trail
If you are seeking a more backcountry experience, the Appalachian Trail passes just north of Woodstock, and the Long Trail is not far away. Trailhead information and suggested hikes shown in the table below. (Download:
Appalachian Trailhead map
)
Appalachian Trail Hikes Near Woodstock, VT

Trail Name and Type

Description

Round -Trip Distances

Starting- Ending Point

Moderate

Rt 12 to Mount Ascutney View (AT North)

Cross the bridge then climb south through a cow pasture and field. After entering the woods continue on a moderate incline to a view of Mount Ascutney to the south. You may choose to hike further; however there is no road access for several miles. Note: For hikers who seek a short experience on the AT with a nice view: Walk just the first .25 mile up the cow pasture to a beautiful view looking north.

2 miles

Route 12. Parking area 0.5 miles past North Bridgewater Road on the left

Stage Road to Pomfret Road (AT North)

Cross the small bridge to the right of the parking space. Note: Watch out for a very muddy section on this trail. You will cross two dirt roads before reaching Pomfret Road. (one of the smaller roads does not appear on the map). Be careful when crossing Pomfret Brook at the end of this section since there is no bridge.

4.4 miles

Stage Road. Parking area 0.5 miles after Suicide Six Ski Resort on the right

Stage Road to Routh 12

(AT South)

Cross Stage Road and walk up to Dana Hill. Beautiful view! It is a moderate climb for about 1 mile to the top of Dana Hill, a longer but more gradual climb than from Route 12.

3 miles

Stage Road. Parking area 0.5 miles after Suicide Six Ski Resort on the right

Pomfret Rd. to Cloudland Rd. (AT North)

Beautiful view and multiple stonewalls.

4 miles

Pomfret Road. Parking area 0.25 miles after Bartlett Brook Road on the left

Pomfret Rd. to Stage Rd. (AT South)

Brooks and stonewalls present. Less elevation gain than Pomfret Road to Cloudland Road.

4.4 miles

Pomfret Road. Parking area 0.25 miles after Bartlett Brook Road on the left

Difficult

Route 12 to Stage Road (AT North)

Facing the display side of the kiosk, take the trail to the right from the parking lot. Cross Route 12 and climb up Dana Hill. There is about ½ mile of strenuous climbing to the top of Dana Hill. There's a beautiful view! You may choose to come back to the Route 12 trailhead or to continue to Stage Road.

3 miles

Route 12. Parking area 0.5 miles past North Bridgewater Road on the left
Last updated: August 23, 2023