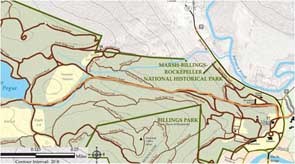 Popular Hiking Trails In and around Woodstock
Woodstock is a walker's paradise. Anywhere in the village you can literally step outside your door onto an interconnected, compact system of pathways, trails, and carriage roads. They take you from the historic center of Woodstock, across meadows and woodlands, through a national park and up to scenic vistas overlooking valleys, villages, and rural countryside.
Take a day hike or a short stroll. Enjoy the rich conifer forests of Mount Peg, the historic core of Woodstock Village and its pedestrian pathways, Faulkner Park, Billings Park, the Vermont Land Trust's King Farm, and the historic carriage roads and paths of the Marsh-Billings- Rockefeller National Historical Park.
If you are seeking a more backcountry experience, the Appalachian Trail passes just north of Woodstock, and the Long Trail is not far away. There are several Appalachian Trail access points in and around Woodstock and access points to the Long Trail are less than an hour drive away.
Guides to Local Hikes
Hikes In and Around the Park This brochure Includes 7 hikes. See links below for individual hikes:
>
Hike 1 - Junior Ranger Loop
(Easy with some short steep sections 1.25 miles)
>
Hike 2 - Faulkner Trail
(Easy with gradual elevation gain 1.7 miles)
>
Hike 3 - Hike to the Pogue
(Moderate 2.5 miles)
>
Hike 4 - North Ridge Adventure
(Moderate 3.6 miles)
>
Hike 5 - South Peak
(Moderate 4.0 miles)
>
Hike 6 - Pogue and South Peak Loop
(Moderate 4.0 miles)
>
Hike 7 - Precipice Trail
(Difficult 2.0 miles)
Appalachian Trail Hikes