Hiking Trails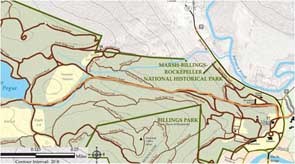 Popular Hiking Trails In and around Woodstock
By using the free Avenza Maps app on your smartphone, you can bring this map with you wherever you go. Avenza will even plot you on the map so that you can know where you are at all times. Below you can find some instructions that will help you get started.
► Instructional guide for

iPhone

and

Android
Woodstock is a walker's paradise. Anywhere in the village you can literally step outside your door onto an interconnected, compact system of pathways, trails, and carriage roads. They take you from the historic center of Woodstock, across meadows and woodlands, through a national park and up to scenic vistas overlooking valleys, villages, and rural countryside.
Take a day hike or a short stroll. Enjoy the rich conifer forests of Mount Peg, the historic core of Woodstock Village and its pedestrian pathways, Faulkner Park, Billings Park, the Vermont Land Trust's King Farm, and the historic carriage roads and paths of the Marsh-Billings- Rockefeller National Historical Park.
If you are seeking a more backcountry experience, the Appalachian Trail passes just north of Woodstock, and the Long Trail is not far away. There are several Appalachian Trail access points in and around Woodstock and access points to the Long Trail are less than an hour drive away.
Guides to Local Hikes

Hikes In and Around the Park
This brochure Includes 7 hikes. See links below for individual hikes:
>
Hike 1 - Junior Ranger Loop
(Easy with some short steep sections 1.25 miles)
>
Hike 2 - Faulkner Trail
(Easy with gradual elevation gain 1.7 miles)
>
Hike 3 - Hike to the Pogue
(Moderate 2.5 miles)
>
Hike 4 - North Ridge Adventure
(Moderate 3.6 miles)
>
Hike 5 - South Peak
(Moderate 4.0 miles)
>
Hike 6 - Pogue and South Peak Loop
(Moderate 4.0 miles)
>
Hike 7 - Precipice Trail
(Difficult 2.0 miles)
Appalachian Trail Hikes
APPALACHIAN TRAIL HIKES NEAR WOODSTOCK - Appalachian Trailhead map
Trail Name and Type

Description

Round -Trip Distances

Starting- Ending Point

Moderate

Rt 12 to Mount Ascutney View (AT North)

Cross the bridge then climb south through a cow pasture and field. After entering the woods continue on a moderate incline to a view of Mount Ascutney to the south. You may choose to hike further; however there is no road access for several miles. Note: For hikers who seek a short experience on the AT with a nice view: Walk just the first .25 mile up the cow pasture to a beautiful view looking north.

2 miles

Route 12. Parking area 0.5 miles past North Bridgewater Road on the left

Stage Road to Pomfret Road (AT North)

Cross the small bridge to the right of the parking space. Note: Watch out for a very muddy section on this trail. You will cross two dirt roads before reaching Pomfret Road. (one of the smaller roads does not appear on the map). Be careful when crossing Pomfret Brook at the end of this section since there is no bridge.

4.4 miles

Stage Road. Parking area 0.5 miles after Suicide Six Ski Resort on the right

Stage Road to Routh 12

(AT South)

Cross Stage Road and walk up to Dana Hill. Beautiful view! It is a moderate climb for about 1 mile to the top of Dana Hill, a longer but more gradual climb than from Route 12.

3 miles

Stage Road. Parking area 0.5 miles after Suicide Six Ski Resort on the right

Pomfret Rd. to Cloudland Rd. (AT North)

Beautiful view and multiple stonewalls.

4 miles

Pomfret Road. Parking area 0.25 miles after Bartlett Brook Road on the left

Pomfret Rd. to Stage Rd. (AT South)

Brooks and stonewalls present. Less elevation gain than Pomfret Road to Cloudland Road.

4.4 miles

Pomfret Road. Parking area 0.25 miles after Bartlett Brook Road on the left

Difficult

Route 12 to Stage Road (AT North)

Facing the display side of the kiosk, take the trail to the right from the parking lot. Cross Route 12 and climb up Dana Hill. There is about ½ mile of strenuous climbing to the top of Dana Hill. There's a beautiful view! You may choose to come back to the Route 12 trailhead or to continue to Stage Road.

3 miles

Route 12. Parking area 0.5 miles past North Bridgewater Road on the left

Scenic views
Mount Tom's South Peak
South Peak offers the best view around! From the overlook you can enjoy panoramic views of Woodstock and the surrounding hills. There are several ways to get to South Peak, all exploring different parts of the Woodstock trails system.

View from Mount Tom Summit:
From west to east, in the foreground is the King Farm with Killington above it on the horizon. To the left is Route 4 and the high school as viewed up the Ottauquechee Valley. To the south, Mt. Ascutney is on the horizon. Below and still proceeding eastward, is the north end of Kendron Valley with the golf course, Vail Field and then the Woodstock Inn. To the left of the Inn is the Windsor County Court House and covered bridge, above which is visible the bald knob of Mt. Peg. Toward the east, the Congregational Church is in the foreground with Billings Farm situated north of the river and then the mountains of New Hampshire are on the horizon above it. The structure on the summit of Mount Tom displays a lighted star and cross with shines over Woodstock during the Christmas and Easter holidays respectively. (Woodstock Inn and Resort Hiking Map 1980).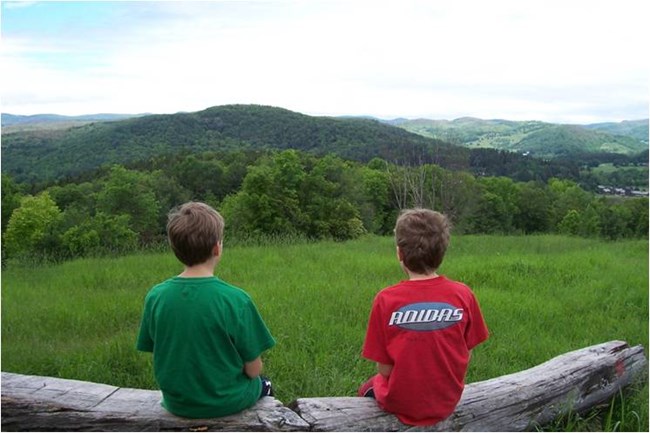 Mount Peg Overlook
Mount Peg trails start right in town. A short hike leads to a beautiful clearing where you can view the Ottauquechee River Valley, the Billings Farm and Museum, and Mount Tom.


Hike Details:
Mount Peg Summit hike (easy)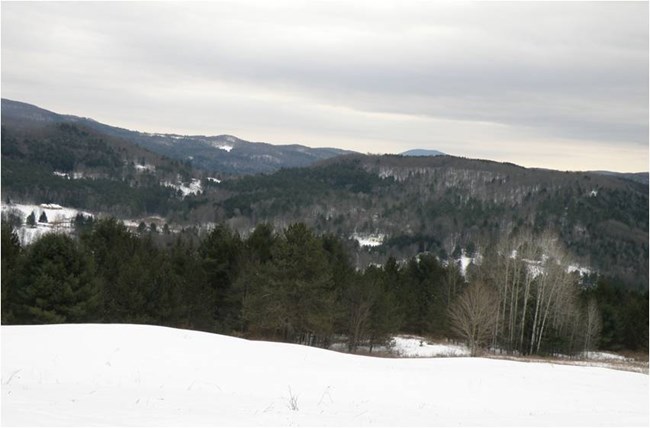 King Farm Overlook
Poet's trail was inaugurated in 2012 and was part of a project of the Woodstock Union High School's AP English Class. Along the short trail you will encounter not only poetry, but also eclectic sculptures.


Hike Details:
Last updated: December 2, 2019