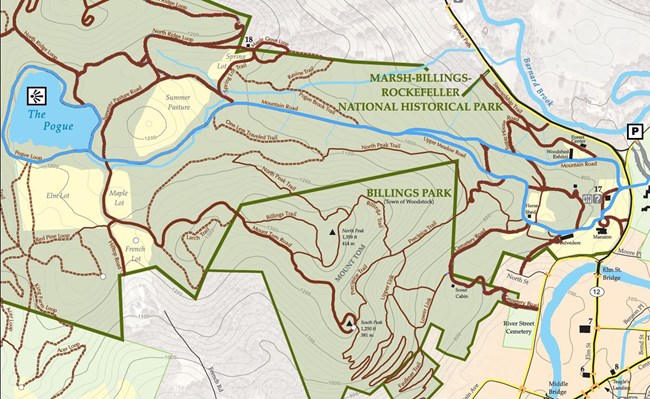 Begin this scenic hike by parking at the Billings Farm & Museum, then take the sign posted walkway by the flagpole. Cross Route 12 into the park, and then take a left past the Carriage Barn Visitor Center. Continue up the carriage road past the Belvedere (white building), and the Horse Shed. Continue on along Upper Meadow Road until it connects with Mountain Road. Hike up the mildly steep grade of Mountain Road until you reach a three-way intersection. Continue left along Mountain Road until you reach the Pogue. Take the Pogue Loop trail to observe beautiful views of our 14-acre mountain pond. Return the way you came, or take Mountain Road all the way back to the park entrance.
History
During George Perkins Marsh's time on this land, the Pogue was a spring-fed fen. Frederick Billings dredged and dammed it in the 1880s to provide water for his estate.
The Pogue provides a diversity of habitats for wildlife, including fish, turtles, frogs, ducks, herons.