Hike 4 North Ridge Adventure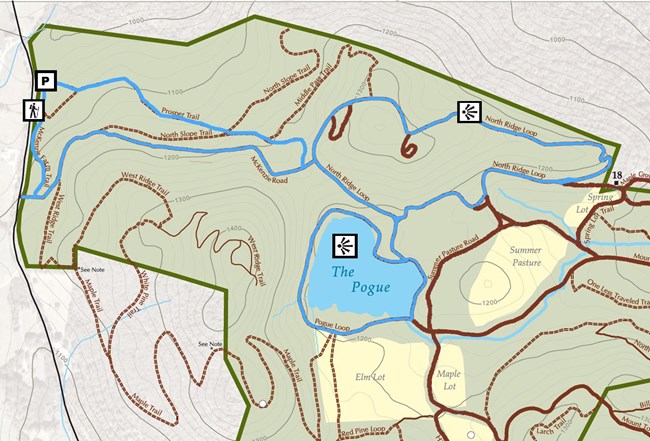 The North Ridge Loop is a is a 3.6 mile-long ecological exploration for all ages. Scan the QR code on the left side of this page, or visit the Carriage Barn Visitor Center to view a guided tour brochure on your phone.
Park at Prosper Trailhead Parking, and begin your hike at the kiosk. Pass through a wooden gate onto the McKenzie Farm trail. At the end of this trail, take a left onto McKenzie Road.
Follow McKenzie Road to a T-junction, and turn left onto the North Ridge Loop trail. After half a mile pass an overlook with a bench. Follow the winding North Ridge Loop downhill, passing the "to spring lot" sign intersection.
At the trail junction triangle where two large trees stand, veer left toward the Pogue, and a welcoming bench. Circle the Pogue and retrace your steps back up the path to the intersection with the two large trees.
Turn left uphill back onto the North Ridge Loop, and take a left onto McKenzie Road at the signpost. After just a few yards, turn right onto the Prosper Trail, descending steeply through the woods.
Stay on Prosper Trail, bearing right towards the short boardwalk that returns you to the parking area.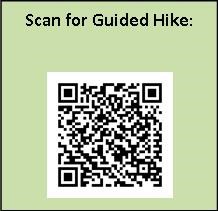 When Walking Woodstock - Remember to Always:
·Pack out what you pack in (Leave No Trace).
·Bring plenty of water.
·Keep your dog on a leash at all times.
·Please pick up after your dog, and dispose of the waste outside the park.
·Wear comfortable shoes with adequate support.
·Park at designated trailheads and lock your car.
·Choose a route that is within your ability, stay on the trails, and take a trail map with you.
·Let someone know your hiking plans, and stick to them.
·Bring a cellphone in case of emergency.
Marsh-Billings-Rockefeller Visitor Center: (802) 457-3368
Woodstock Police: (802)-457-1420
Emergency: Dial 911
Last updated: July 6, 2016