Hike 6 Pogue and South Peak Loop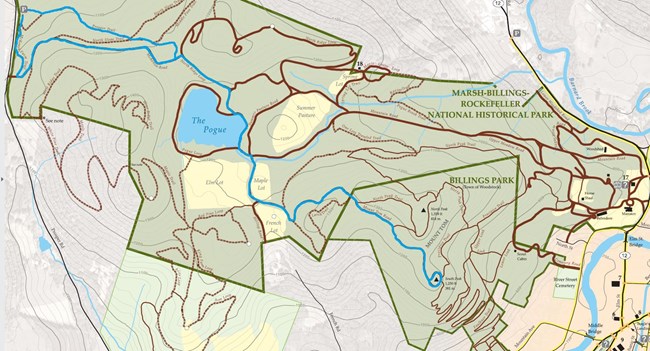 This route to the Pogue and South Peak offers a gradual hike, and a chance to explore the western side of the National Park. From the Prosper Road Parking Area pass the trailhead kiosk, and take the McKenzie Farm Trail to McKenzie Road. Turn left and follow McKenzie Road until it ends, then turn right on North Ridge Loop. Downhill, turn right at an intersection with two large trees. Walk the Pogue Loop until you reach a short section of fence. Take Mountain Road and shortly turn right onto Mount Tom Road. Follow Mount Tom Road to South Peak with its captivating view of Woodstock. Retrace your steps to return to the trailhead. For an alternate route to the parking area, turn right once you're on McKenzie Road and follow the steep Prosper Trail to the boardwalk.
History
Remnants of farm buildings may be seen at the junction of the McKenzie farm trail and McKenzie Road. The Prosper Trail passes through red pine plantations planted by Frederick Billings' heirs in 1917.
When Walking Woodstock - Remember to Always:
·Pack out what you pack in (Leave No Trace).
·Bring plenty of water.
·Keep your dog on a leash at all times.
·Please pick up after your dog, and dispose of the waste outside the park.
·Wear comfortable shoes with adequate support.
·Park at designated trailheads and lock your car.
·Choose a route that is within your ability, stay on the trails, and take a trail map with you.
·Let someone know your hiking plans, and stick to them.
·Bring a cellphone in case of emergency.
Marsh-Billings-Rockefeller Visitor Center: (802) 457-3368
Woodstock Police: (802)-457-1420
Emergency: Dial 911
Last updated: May 17, 2019