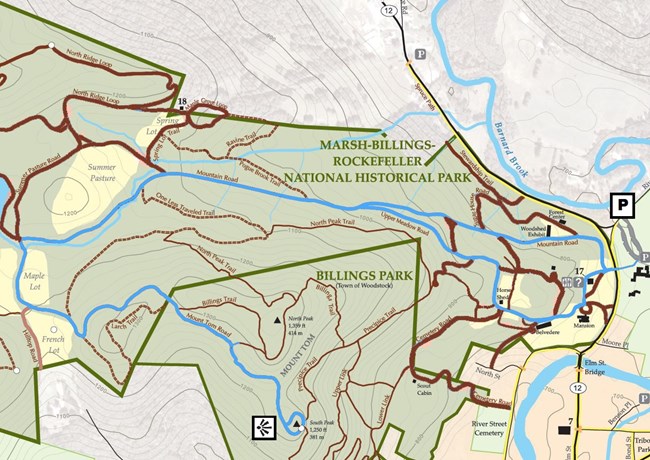 One of the park's most popular hikes, this 4.0 mile round trip journey passes through the Billings' historic tree plantations. It crosses from the National Park into Billings Park, owned by the town of Woodstock.
Begin your hike at the Billings Farm & Museum Parking Area. Take the signposted walkway next to the flagpole, and cross Route 12 to enter into the park. Take a left up the hill, passing the Carriage Barn Visitor Center on your right, and continue on past the Mansion and Belvedere (white building) on your left. Continue up the carriage road that loops around the pasture, and follow Upper Meadow Road until you connect with Mountain Road. Continue on Mountain Road to a four-way junction. Turn left on Mount Tom Road to South Peak. For a short diversion in the middle of this hike, follow the signposts to the Pogue, a scenic mountain pond.
History
Mountain Road is part of an elaborate historic carriage road system constructed by Frederick Billings in the 1870s. The carriage roads were part of an estate plan designed by scientific farmer and landscape planner Robert Morris Copeland in 1869.