Hike 5 South Peak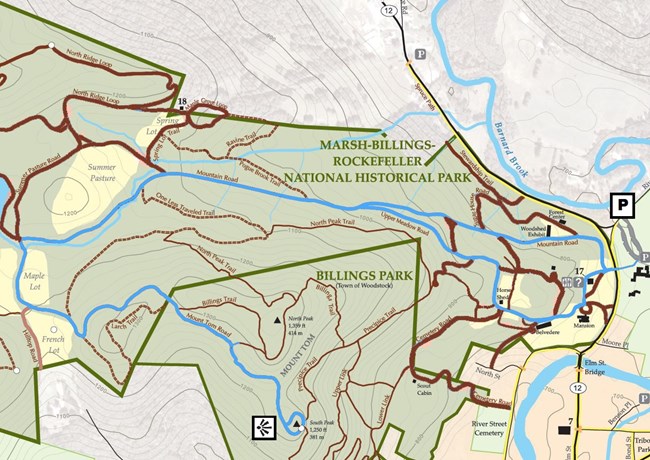 One of the park's most popular hikes, this 4.0 mile round trip journey passes through the Billings' historic tree plantations. It crosses from the National Park into Billings Park, owned by the town of Woodstock.
Begin your hike at the Billings Farm & Museum Parking Area. Take the signposted walkway next to the flagpole, and cross Route 12 to enter into the park. Take a left up the hill, passing the Carriage Barn Visitor Center on your right, and continue on past the Mansion and Belvedere (white building) on your left. Continue up the carriage road that loops around the pasture, and follow Upper Meadow Road until you connect with Mountain Road. Continue on Mountain Road to a four-way junction. Turn left on Mount Tom Road to South Peak. For a short diversion in the middle of this hike, follow the signposts to the Pogue, a scenic mountain pond.

Follow the main carriage road up the winding South Peak until you reach the beautiful panoramic view of the Village of Woodstock. Rest for a few minutes and take in the view from one of the wooden benches. Return the way you came or follow Mountain Road all the way down past the Woodbarn and Forest Center to the park entrance.
History
Mountain Road is part of an elaborate historic carriage road system constructed by Frederick Billings in the 1870s. The carriage roads were part of an estate plan designed by scientific farmer and landscape planner Robert Morris Copeland in 1869.
When Walking Woodstock - Remember to Always:
·Pack out what you pack in (Leave No Trace).
·Bring plenty of water.
·Keep your dog on a leash at all times.
·Please pick up after your dog, and dispose of the waste outside the park.
·Wear comfortable shoes with adequate support.
·Park at designated trailheads and lock your car.
·Choose a route that is within your ability, stay on the trails, and take a trail map with you.
·Let someone know your hiking plans, and stick to them.
·Bring a cellphone in case of emergency.
Marsh-Billings-Rockefeller Visitor Center: (802) 457-3368
Woodstock Police: (802)-457-1420
Emergency: Dial 911
Last updated: May 17, 2019