hike 1 junior ranger loop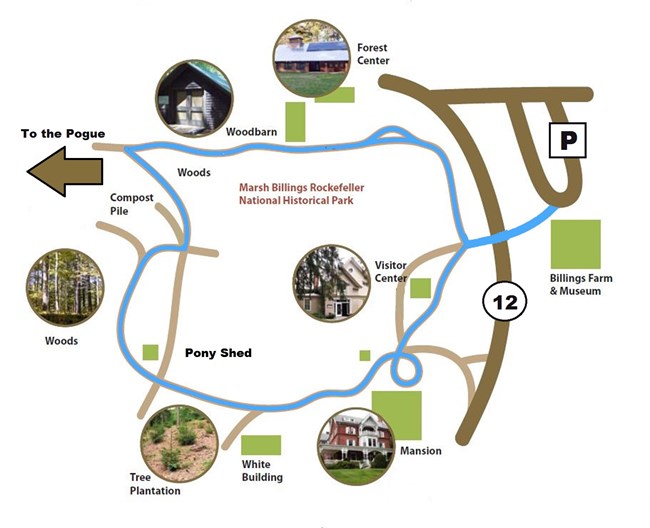 The Junior Ranger Loop is a 1.25 mile hike that can be enjoyed by nature-lovers of all ages! If you wish to complete the Junior Ranger program, pick up a copy of the Junior Ranger Booklet at the Carriage Barn Visitor Center during open hours or download a copy here.
During the open visitor season (late May to October 31), wooden Junior Ranger Loop signs will guide your way. Begin your journey by parking at the Billings Farm & Museum, then walk up the sign posted pathway next to the flagpole. Cross Route 12 to enter into the park, then take a left onto the carriage road. Walk along the carriage road past the mansion until you see a white building above the gardens. Continue up the road above the white building. After passing a young tree plantation on your left continue walking through the woods.
At the sign for the Pogue, take the right fork. Take the path on the left at the five way intersection, heading down the hill until you reach the carriage road. Take a right down the hill, passing the Woodbarn and Forest Center on your left. Finish your hike by continuing downhill back to the park entrance.

If you aren't able to visit us, you can still complete our Junior Ranger book and earn a badge! Visit our Junior Ranger page to learn more.
When Walking Woodstock - Remember to Always:
·Pack out what you pack in (Leave No Trace).
·Bring plenty of water.
·Keep your dog on a leash at all times.
·Please pick up after your dog, and dispose of the waste outside the park.
·Wear comfortable shoes with adequate support.
·Park at designated trailheads and lock your car.
·Choose a route that is within your ability, stay on the trails, and take a trail map with you.
·Let someone know your hiking plans, and stick to them.
·Bring a cellphone in case of emergency.

Marsh-Billings-Rockefeller Visitor Center: (802) 457-3368 ext. 0
Woodstock Police: (802) 457-1420
Emergency: Dial 911
Last updated: March 13, 2023