Current Fire Activity & Restrictions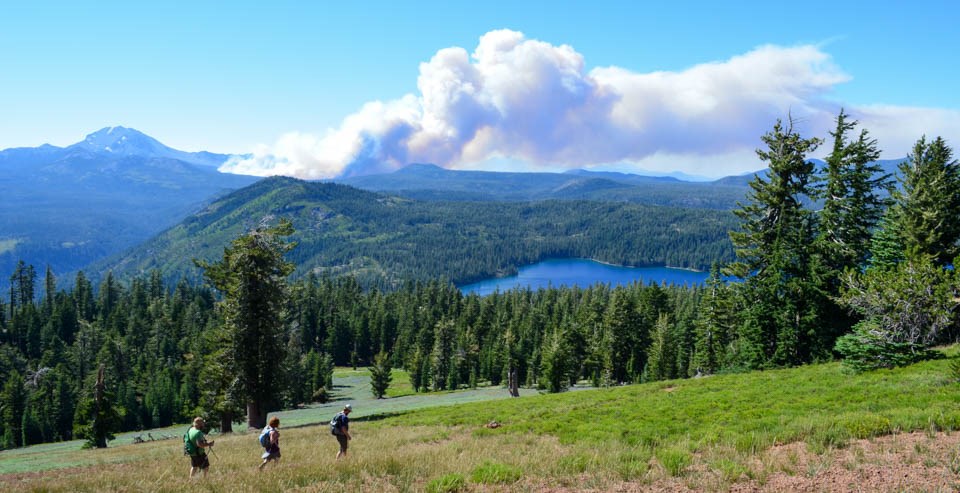 Wildfire Information
Wildfires within Lassen Volcanic National Park will be reported on this page if they exceed low-impact status, which may include rapid growth, increased impacts, or size exceeding 1/4-acre.
Active Fires: None
Fire Restrictions: No additional restrictions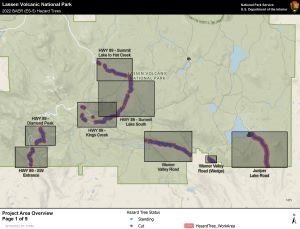 Dixie Post-Fire Recovery
The 2021 Dixie Fire reached 100% containment on October 26, 2021 with a total size of 963,309 acres including 73,240 acres within the park. Learn more about Dixie Fire effects within the park and Dixie Fire recovery.
Crews are removing hazard trees burned from the park highway and Warner Valley and Juniper Lake Areas as part of the 2021 Dixie Fire Burned Area Emergency Response (BAER). Hazard trees pose a threat to safety or infrastructure and are identified by a blue paint mark. Expect temporary traffic control and changes to parking areas in active work zones. Please keep a safe distance from workers and equipment.
Prescribed Burning
Lassen Volcanic National Park will complete prescribed burning in fall 2022 as conditions permit. Smoke from prescribed burns may be visible within and outside of the park. Air quality information including Particle Matter (PM2.5) measurements at Manzanita Lake and Mineral is available at on the Air Quality page.

Treatments may include broadcast burns (application of fire within a predetermined area) or pile burns. Possible treatment areas include Mineral headquarters, Summertown (north of Manzanita Lake); and Juniper Lake, Butte Lake, and Warner Valley areas.
Northwest Gateway Project Prescribed Burning
Prescribed burning is planned for approximately 225 acres (Units G and F) southwest of Manzanita Lake Campground. This is part of the multi-year Northwest Gateway Forest Restoration (NWG) Project and involves the reintroduction of fire to areas that were previously treated by mechanical thinning.
Fire Restrictions
Normal Fire Restrictions
Campfires are always restricted to fire rings within designated campgrounds. Campfires are not permitted in the backcountry/Wilderness.
There are currently no additional fire restrictions in the park.
Please be especially cautious with your campfire (where permitted), vehicle, gas/liquid campstoves, and cigarettes to help reduce the risk of wildfire during this period of severe drought. Campfires are always restricted to fire rings within designated campground.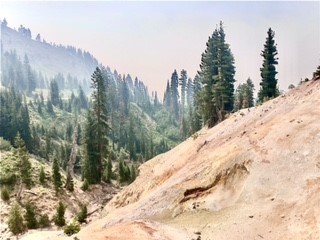 Smoke Impacts from Nearby Wildfires
Smoke impacts in the park from nearby fires vary from day to day. Park staff is not able to predict conditions for your trip. The following resources can help you check conditions prior to your visit:
Last updated: October 4, 2022