Fire Management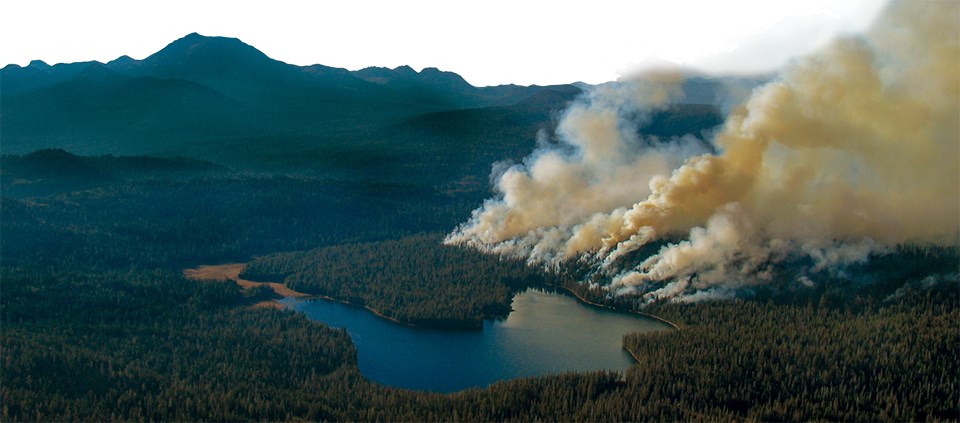 Learn and Explore
Wildland fire has long been recognized as one of the most significant natural processes operating within and shaping the northern Sierra Nevada and southern Cascade Mountain ecosystems. Virtually all vegetation communities show evidence of fire dependence or tolerance. Many forest types in the park have been shaped by frequent fire return intervals (ranging from 5-16 years) as evidenced by park research. At the same time, wildland fire has the potential to threaten human lives and property. Fire management requires balancing the risks and benefits of fire in our wildlands. Lassen Volcanic's Fire Management Program addresses the specific priorities, challenges, and approaches that are most likely to be effective in the park.

Current Fire Management Plans and Projects: 
Fire Management Strategies
The program employs five appropriate management strategies to reach its goals:
Wildland Fire Use
Fire management staff assesses each lightning caused fire in the Wilderness for the potential to be managed for resource benefit. Natural fires that occur within predetermined geographic areas may be managed under strict parameters to achieve specific resource management objectives.
Fire Suppression
Wildland fire suppression is an appropriate management response to some wildland fires which threaten life, property and critical resources. All suppression actions are implemented with firefighter safety as the highest consideration. Suppression activities seek to minimize loss of resource values, economic spending, and the use of firefighters.
Manual Fuel Treatments
Manual treatment is the use of hand tools or hand operated power tools to reduce hazardous accumulations of wildland fuels and to create defensible space near structures and along prescribed fire boundaries.
Mechanical Fuel Treatment
Mechanical treatments include the use of larger mechanized equipment such as front end loaders, tub grinders, and other large equipment in order to move and process larger material. Mechanical treatments are used only in developed areas to remove larger diseased trees which pose a hazard to the public. Read more about how mechanical fuel treatment was used to improve forest health in Manzanita Lake Campground.
Prescribed Fire
Prescribed fires are ignited by management to achieve specific resource objectives. In some forest types it is necessary to return and retreat these areas with prescribed fire in order to maintain them. These operations are not mutually exclusive and usually all prescribed fire operations contain a mix of initial treatment and maintenance treatment.
Prescribed fires must be described in a prescribed fire burn plan. The plan will contain a prescription defining goals, objectives, and treatment methods employed to achieve the objectives. The park employs methods to monitor areas before and after treatment to insure that fire management operations are meeting resource management objectives.
Wildland Fire Management Goals (Abbreviated)
Ensure that firefighter and public safety are the first priority.
Restore and maintain desired fire regimes.
Protect cultural resources.
Protect sensitive park resources.
Reduce hazardous accumulations of fuels near developments.
Maintain preparedness for fire response.
Coordinate with other park divisions and neighboring agencies.
Ensure that financial costs are commensurate with protection or enhancement of resource and wilderness values.
Integrate fire management activities with all other aspects of park management and operations.
Last updated: May 11, 2022