Service Dogs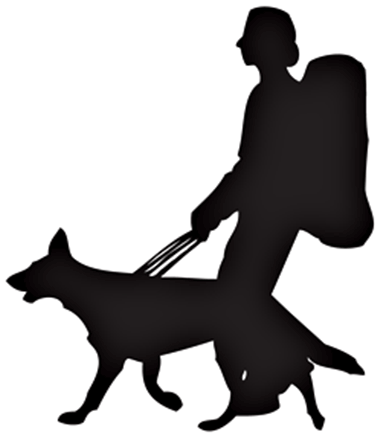 ADA service dogs are welcome on Isle Royale. However, a certificate of veterinary inspection must be obtained prior to your trip.
Why?, Expectations, ADA Information, FAQ
Service Dog Veterinary Certificate
You must have an approved veterinary certificate before your service dog may be brought within Isle Royale National Park boundaries (which extend 4.5 miles from the archipelago shoreline into Lake Superior).

Veterinary Certificates must be received by the park 48 hours (two business days) prior to island departure to accommodate processing.
To bring your service dog to the island:
Contact the park to discuss the details of a service dog on-island.
Download the Service Dog Veterinary Certification Form. You may also contact the park to receive the form in-person, through mail, or through email.

Part I of the application must be filled out completely by the service dog's owner.

Part II of the application must be filled out completely by a licensed veterinarian no more than 15 days prior to the service dog owner's visit stating the animal is free of all communicable diseases.

Contact the park

for how best to return your application (we will provide you with the necessary mail or email address).

Veterinary Certificates must be received by the park 48 hours (two business days) prior to island departure to accommodate processing.

If the certificate is issued, Part III of the application will be signed by the park superintendent or acting representative.

The service dog owner may pick up the approved service dog certificate at the

Houghton Visitor Center

, or it will be emailed to the service dog owner.

Once travel plans are confirmed, communicate when and where you will be arriving to the park so a NPS representative can meet with you upon arrival.
Failure to obtain a service dog veterinary certificate prior to your visit will result in your animal's removal from the island and potential legal repercussions.
Why Do I Need a Veterinary Certificate?
Park policy prohibits the importation or possession of any dogs, cats, or other mammals within park boundaries, including on board vessels or planes. The park's primary concern is for the protection of wildlife species; the inadvertent transmission of disease or parasites into the largely isolated Isle Royale ecosystem could have devastating effects on wildlife populations. In 1980, the park witnessed such an event, when the canine parvovirus was likely transmitted to the island from a pet dog and infected the wolf population. Wolves on Isle Royale plummented from 50 individiuals down to 14. Fox and American marten, who also inhabit Isle Royale, are susceptible to canine parvovirus as well.
Isle Royale National Park recognizes the need for ADA service dogs to be able to access the park with their owners. In order to accomodate this need while at the same time protecting the park's wildlife population, this service dog certificate is required.
Service Dog Expectations
Must be leashed and under control at all times.

All fecal matter must be picked up and deposited in a flush toilet or backcountry privy. To facilitate proper waste disposal, d

og waste bags are available at the Houghton

,

Rock Harbor

, and

Windigo

Visitor Centers upon request for service animal owners

.

Food and care are to be provided by the service dog owner only.

Must comply with generally accepted canine social behavior.

If your animal shows any signs of illness while on the island, in order to protect against the potential spread of illness to wildlife, make arrangements to depart the island as soon as possible.
ADA Information
The Americans with Disability Act (ADA) determines the regulations guiding service animals. In 2010, the Department of Justice revised and clarified its requirements for service animal public accommodations (search service animal). Isle Royale National Park does its very best to implement these requirements while at the same time balancing the preservation of the unique and isolated archipelago that is Isle Royale.
Frequently Asked Service Dog Questions
Where May I Travel with my Service Dog?
You may travel anywhere on the island that other park visitors are allowed. However, we recommend that you stay within or near developed areas due to potential risks to your animal.
Is My Emotional Support Dog Recognized as an Service Dog?
Unfortunately, no. Emotional support dogs are not covered by the ADA except in specific PTSD cases and are not trained to the same standards as service dogs.
Can Service Dogs Travel Aboard Ranger III?
Once a veterinary certificate is obtained, service dogs are absolutely permitted aboard Ranger III. There are no canine lifejackets aboard the vessel.
What are the Safety Concerns for me and my Service Dog?
Rugged, rocky terrain

Negative wildlife interactions

Potential encounters with a free-ranging wolf population. Wolves do not generally tolerate other canines in their territory.

If something should happen to your service dog, are you prepared for being in an isolated wilderness in the middle of Lake Superior without your service dog?

Isle Royale

safety webpage
Last updated: July 23, 2022