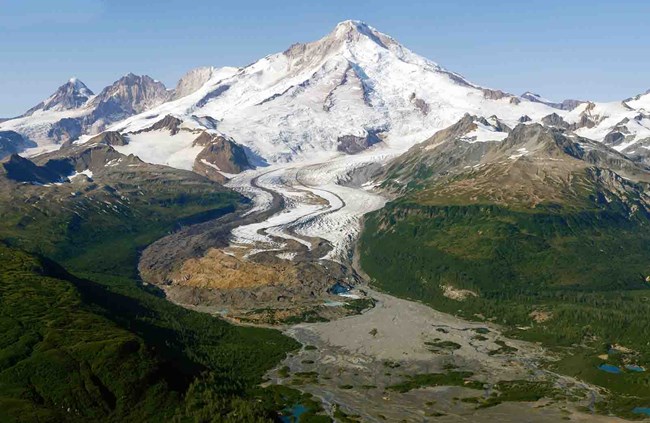 Climate
Lake Clark National Park and Preserve is divided by the Chigmit Mountains, which separate the subpolar marine climate of Cook Inlet from the continental climate of Interior Alaska. The coastal east side of the mountains is typically warmer and wetter than the west side. Port Alsworth, located west of the Chigmit Mountains, represents inland climatic conditions.
Geology
The Chigmit Mountains are composed of a complex of multiple granitic stocks and batholiths that intruded after Triassic time into Paleozoic and Cenozoic rocks. The main batholith is elongated to the northeast, parallel to the structural trends of the region. The intruded rocks, which dip away from the Chigmits, are moderately to highly deformed volcanic and sedimentary rocks. Three volcanic piles of Tertiary to Recent age are still active: Mount Spurr, Redoubt Volcano, and Iliamna Volcano.
The park has been extensively glaciated, with three known advances. All glacial deposits appear to be of Wisconsin age or younger. Glacial ice, much of it associated with Redoubt and Iliamna volcanoes, covers approximately 30% of the park. Like all parks in Alaska, glacier cover in Lake Clark has declined over the last 50 years. Silty meltwater from these glaciers and associated snowfields strongly influences the hydrologic cycle in the park.