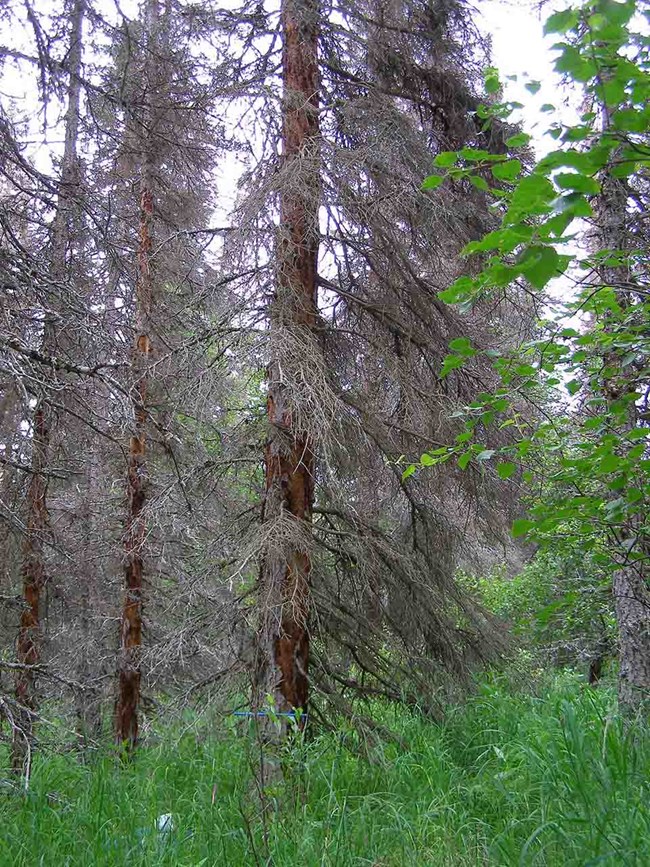 Over the last two decades, a massive spruce beetle outbreak has killed over 1.5 million hectares of forest in south-central and southwest Alaska. Smaller, more localized outbreaks of native defoliators have affected alder, willow, and dwarf birch, and non-native insects such as the spruce aphid are spreading into the Cook Inlet Basin. To better understand forest disturbance dynamics, the Southwest Alaska Network has used U.S. Forest Service annual aerial survey data, long-term vegetation monitoring data, and tree-ring studies to examine the frequency of historic insect outbreaks in Lake Clark and Katmai national parks and preserves; the effects of insect disturbance on species cover and condition; and the relationship between climate and disturbance regionally. In addition, we have been investigating the environmental conditions that predispose trees to beetle attack through a series of targeted studies.

Monitoring objectives are as follows:
Quantify annual variation in spruce beetle activity using U.S. Forest Service aerial survey data.

Estimate cumulative area affected by the spruce beetle in Lake Clark and Katmai national parks and preserves.

Contact: Amy Miller