Natural Resources Monitoring at Zion National Park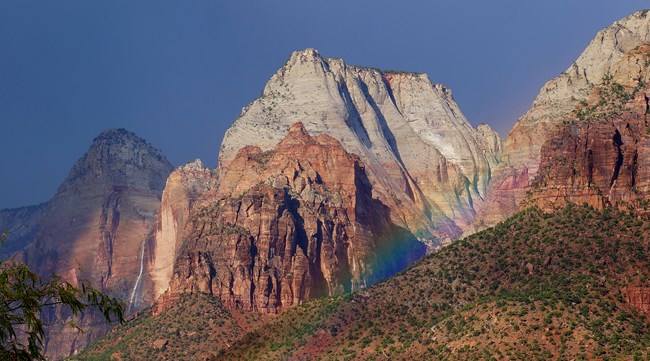 The Northern Colorado Plateau Network monitors air quality, climate, invasive exotic plants, land surface phenology, landbirds, landscape dynamics, uplands, wadeable streams, and water quality at Zion National Park. The results of that monitoring provide park managers with scientific information for decisionmaking.
Before it became a national park in 1919, Zion National Park was established as Mukuntuweap National Monument by Presidential Proclamation on July 31, 1909. The national park status was proffered to protect "unusual archeological, geologic and geographic interests." The park is best known for its labyrinth of remarkable canyons, volcanic phenomena, fossiliferous deposits, brilliantly colored strata, and rare sedimentation. Due to downcutting of the Virgin River, Zion Canyon provides a spectacular display of Triassic and Jurassic sediments, the most spectacular of which is a 2,000-foot thick exposure of Navajo sandstone.
Elevation ranges from 1,128 meters (3,700 feet) in the park's southwestern corner to 2,660 meters (8,726 feet) on Horse Ranch Mountain in the northeast. Elevational differences influence the park's vegetation communities. Desert and semi-desert shrublands dominated by blackbrush, big sagebrush, fourwing saltbush, rabbitbrush, greasewood, snakeweed, and Mormon tea predominate at lower elevations. Mid-elevation vegetation is often dominated by pinyon-juniper woodlands, with woodland understories dominated by Utah serviceberry, greenleaf manzanita, big sagebrush, mountain mahogany, curl-leaf mountain-mahogany, Stansbury cliffrose, turbinella live oak, or Gambel oak. Higher-elevation vegetation is characterized by montane vegetation types, such as ponderosa pine woodland and forest, quaking aspen forest, Douglas-fir forest, white fir forests, and mixed montane shrublands and grasslands. Water resources include springs, seeps, tinajas, and the Virgin River and its tributaries.
Increasing recreational use, adjacent land-use impacts, exotic plant species invasion, and degradation of riparian areas are the park's main natural resource management concerns.
Last updated: February 3, 2022