Natural Resources Monitoring at Canyonlands National Park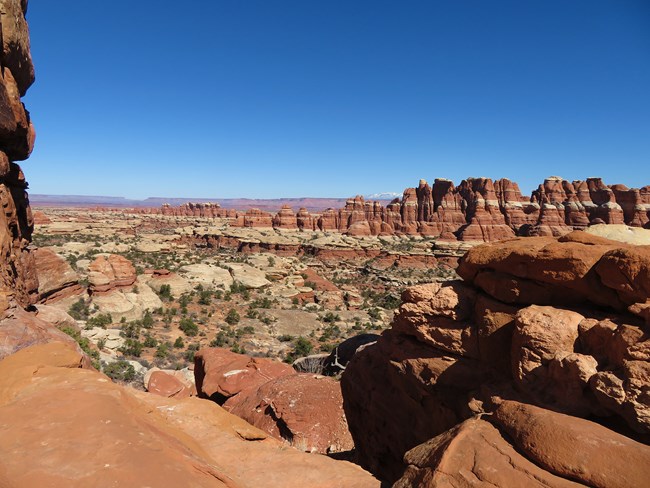 The Northern Colorado Plateau Network monitors air quality, big rivers, climate, land surface phenology, landbirds, landscape dynamics, springs and seeps, upland vegetation and soils, and water quality at Canyonlands National Park. The results of that monitoring provide park managers with scientific information for decisionmaking.
Canyonlands National Park was established on September 12, 1964, "to preserve an area . . . possessing superlative scenic, scientific, and archeological features for the inspiration, benefit, and use of the public." The park preserves one of the last relatively undisturbed areas of the Colorado Plateau. Carved out of vast sedimentary rock deposits, this landscape of canyons, mesas, and deep river gorges possesses remarkable natural features that are part of a unique desert ecosystem.
Elevations range from approximately 1,189 meters (3,900 feet) on the Colorado River south of Cataract Canyon to 2,188 meters (7,180 feet) above Big Pocket in the Needles District. The climate is arid, characterized by hot, dry summers and cool to cold winters. Temperatures can reach as high as 110°F and as low as -16°F. Normal annual precipitation is 235 millimeters (9.27 inches). Although shrublands are the most diverse community type, the park is spatially dominated by upland woodlands. Upland herbaceous communities occur primarily in the Needles District. Wetland and riparian shrublands are found along the park's two major river corridors, the Colorado and the Green.
Increasing recreational use, adjacent land-use impacts, and exotic plant species invasion are the park's main natural resource management concerns. However, ambient noise levels are the lowest in the country and the night sky resources are outstanding.
Last updated: October 31, 2020