Springs, Seeps, and Hanging Gardens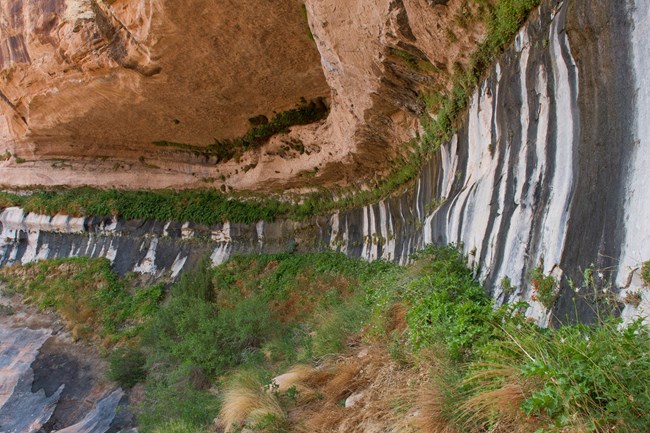 Springs, seeps, and hanging gardens provide essential water, food resources, and wildlife habitat, and are important oases of biodiversity and productivity in desert landscapes. Because of their inherent fragility, spring and seep ecosystems are sensitive to a variety of human activities that have reduced the ecological integrity of these ecosystems through recreation, groundwater diversion, and livestock grazing. Monitoring spring and seep ecosystems will enable a more thorough understanding of the impacts of human activities and climate change on these ecosystems.
The primary goal for long-term monitoring of springs, seeps, and hanging gardens is to assess trends in key indicators of spring and seep ecosystem health: water quantity, water quality, and spring-related vegetation. The National Park Service Southeast Utah Group (SEUG) has been monitoring water quality at a small number of spring sites for over 10 years. The Northern Colorado Plateau Network (NCPN) has worked closely with SEUG staff to develop a long-term springs monitoring program that augments that sampling by adding information on site vegetation and disturbance at existing monitoring sites, initiating flow sampling at additional sites, and including hanging gardens.
The Northern Colorado Plateau Network monitors seeps, springs, and hanging gardens at Arches National Park, Canyonlands National Park, Hovenweep National Monument, and Natural Bridges National Monument.
Vital Signs: Springs, seeps, and hanging garden communities
Protocol Lead: Rebecca Weissinger
Publications and Other Information
Last updated: June 1, 2018