Natural Resources Monitoring at Arches National Park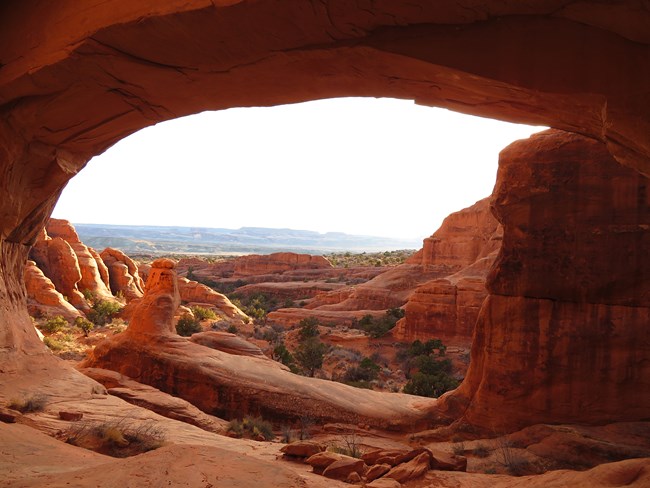 The Northern Colorado Plateau Network monitors air quality, climate, land surface phenology, landbirds, landscape dynamics, springs and seeps, upland vegetation and soils, wadeable streams, and water quality at Arches National Park. The results of that monitoring provide park managers with scientific information for decisionmaking.
Before becoming a national park in 1971, Arches National Park was established as Arches National Monument by Presidential Proclamation on April 12, 1929, "to protect extraordinary examples of wind erosion in the form of gigantic arches, natural bridges, 'windows,' spires, balanced rocks and other unique wind-worn sandstone formations . . . because of their educational and scenic value." The park has the largest concentration of natural stone arches in the world.
Elevation ranges from approximately 1,219 meters (4,000 feet) in the canyons to 1,585 meters (5,200 feet) on the rims. The climate is arid and characterized by hot, dry summers and cool to cold winters. Arches National Park is largely covered by exposed bedrock, weakly developed soils, and sand dunes. Desert shrublands are the park's most common vegetation type. Woodlands and sparse woodlands are also common and widely distributed. The park boundary is adjacent to the Colorado River for approximately 10 miles.
Increased recreational use, trespass livestock, and exotic plant species invasion are the park's main natural resource management concerns. On the other hand, ambient noise levels are the lowest in the country and the park's night-sky resources are outstanding.
Last updated: October 31, 2020