Forest Vegetation in Coastal Plain & Piedmont Parks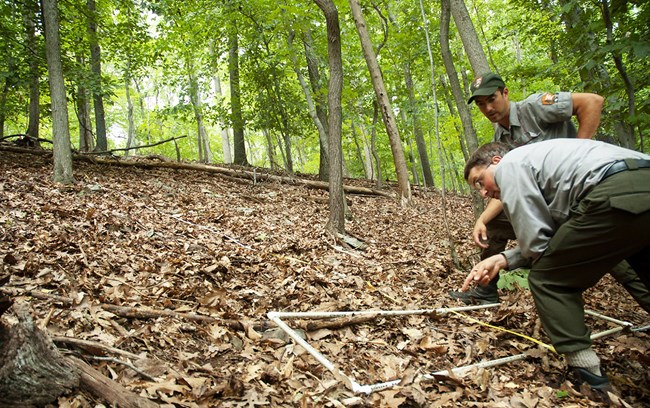 Importance and Issues
The mid-Atlantic region is primarily a forested ecoregion and all Mid-Atlantic Network (MIDN) parks have forests that form an essential part of the landscape and provide habitat for a diversity of wildlife. The current forest vegetation protocol assesses the status and trends of forest plant communities, and the impacts of stressors such as white-tailed deer, invasive exotic plants, exotic plant diseases and pathogens, and native forest pests, as well as the effect of acid deposition of forest soils. Evaluation of snags and downed woody debris provides information on additional important habitat.
Forest structure, composition, and dynamics are important measures of forest condition and health. Changes in these metrics can be indicative of stressors that may result in alterations in the future ecological integrity of the forest communities and the species that depend on them. For example, high mortality rates among canopy trees may signal a change in the dominant forest species; declines in seedling and sapling densities could indicate a reduced capacity of the forest to regenerate; or, increases in invasive exotic plant cover could result in the competitive exclusion of other herbaceous plants in the forest understory.
Other anthropogenic stressors may have a long-term effect on the forest communities, including acid deposition which can alter soil chemistry, disrupting nutrient cycles. Increased habitat fragmentation surrounding parks can weaken the ecological integrity of the forests, increasing their susceptibility to exotic plant and pest invasions.
Monitoring Objectives
Determine the status of and trends in forest structure, composition, and dynamics of canopy and understory woody species.
Determine the status of and trends in the density and composition of tree seedlings and selected herbaceous species that are indicators of deer browse.
Detect and monitor the presence of invasive exotic plants, exotic plant diseases and pathogens, and forest pests.
Determine the status of and trends in forest coarse woody debris and the availability of snags.
Determine the status of and trends in soil Ca:Al and C:N ratios to asses the extent of base cation depletion, increased aluminum availability, and/or nitrogen saturation impacting MIDN forest soils.
Where We Monitor
---
---
Monitoring Documents
Resource briefs are short PDFs summarizing our monitoring programs or results.
Periodically, we publish reports that describe what we are learning in the field. These monitoring reports are more in-depth than resource briefs and include data analysis and a discussion of our findings. 
Protocols describe how we monitor. They include a descriptive narrative of what we monitor and why, our field methods, how we analyze and manage our data, and more. All of our protocols are peer reviewed.
Last updated: August 27, 2018