Inventory and Monitoring at Petersburg National Battlefield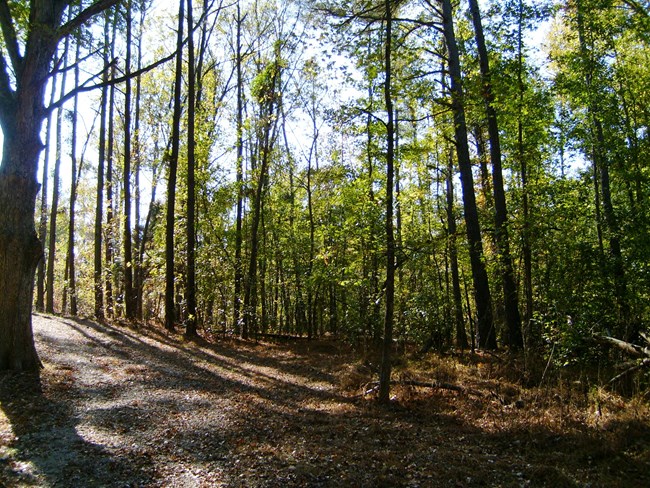 Environmental Setting
Petersburg National Battlefield is located in south central Virginia, 32 km (20 miles) south of Richmond and 80 km (50 miles) north of the Virginia/North Carolina border. Petersburg NB is one of four units of the National Park System commemorating and preserving the battlefields of the 1864-65 Civil War campaigns in Virginia. The park tells the story of the 11 month contest between the Federal Army of the Potomac and the Confederate Army of Northern Virginia which ultimately culminated in the surrender of the Army of Northern Virginia at Appomattox Court House on April 9, 1865.
The park consists of over 1100 ha (2,700 acres) in ten separate units scattered over two counties and the cities of Petersburg and Hopewell. Approximately 70% of the park is forested with the predominant species being loblolly pine, oaks, sweet gum and poplar. The remaining park acreage consists of open fields and developed areas. The park's forests and fields provide habitat for many plant and animal species, including numerous birds that are recognized as state species of special concern or federal species of conservation concern.
Key Resources and Issues
The park currently faces numerous threats to its natural and cultural resources. Increased urbanization and population growth in the areas surrounding the park can have adverse effects on land cover, air and water quality, and further fragment already limited habitat. Additional stresses from the spread of invasive exotic species that impact biological diversity and the park's important wetland habitats.
In addition to the natural resource management activities being performed by park staff, scientists of the Mid-Atlantic Network Inventory and Monitoring Program have instituted several monitoring protocols to monitor the status and trends of natural resources at Petersburg NB.
Last updated: November 25, 2019